I'm excited about rain. Likely a sign that I've become a true Californian, the smell of rain makes me slightly giddy. One year, when it rained particularly hard, I picked my daughter up from school early just so we could get dressed in our rain gear and boots and go play in the puddles. Never mind that this act, in and of itself, is a bizarre symbol of the "times we're livin' in." Obviously the neighborhood kids ought to be running around jumping in puddles together, but since the neighborhood kids don't come outside unattended, I'm playing the role (with the side benefit of a little re-lived childhood for me).
Our excursion took us through the Douglas Family Preserve, first to the "balance beam" tree, then to the Puddle of Depth. This puddle offered an optical illusion: the wood chips that comprise the walking paths through the park float on the surface, densely packed as if to emulate their former non-floating selves. We goaded each other on, daring the other to set a rain-boot down on the false surface. I held the sole of my boot right on the surface, pretending to walk on water, and then splashed all the way in. In the center of the puddle the water flirted with the top of my boots, almost knee-high.
More than an hour later we had wound our way through six more major puddles, an investigation into the rain-drop collecting abilities of grass blades, and the muddy back trail leading from the north side of the Douglas Preserve down towards Hendry's Beach. We were getting tired, and I was glad about my plan to take the shorter route back, flat along the beach rather than returning up hill through the park.
Upon reaching the beach we were met with an unforeseen obstacle. The usually mild trickle of the slough had become a roiling river, 45 feet across and of indeterminable depth. The brown water gathered itself from an entire watershed, all of it attempting to re-discover the ocean at once. We were the sole human inhabitants of the beach then, with the sun near setting and the seagulls keeping their distance. On my right was a bedraggled eight year-old, wishing for the quickest route home. On my left, the misplaced Mississippi.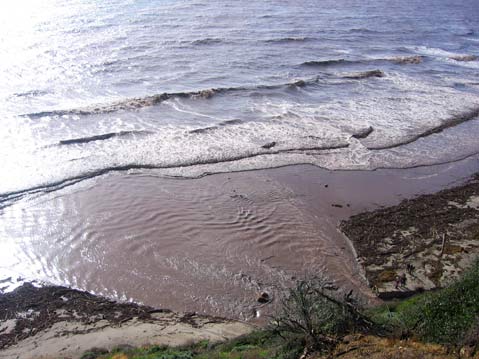 Séamas Ó Conghaile