Merrymaking might as well be Santa Barbara's official civic sport. Our city's oldest and biggest annual event is called Fiesta, our university is recognized nationally for its celebrative spirit, and we're one of the most popular places on the planet to throw a wedding, also known as the most important bash in one's life. But most telling is that the heart of our city morphs from a shopper's Shangri-La into a party­er's paradise every weekend evening, as droves of Santa Barbarans mix with the steady stock of tourists to eat, drink, and dance the night away. Altogether, the bacchanalian pleasures of nightlife are deeply woven into Santa Barbara's social, cultural, and economic DNA, and that will never change.
The epicenter for this revelry must be the 500 block of State Street, where patrons bounce between such hotspots as The Sandbar, Madison's, Statemynt, and S.B. Brewing Company. But there's plenty happening on the 400 and 600 blocks, as well, with Whiskey Richard's recently undergoing an extensive remodel (complete with inviting patio), Sharkeez always attracting the crowds (especially on Monday's international night), and the so-called "Tonic Empire" — a partnership that's connected to Tonic, Blush, Marquee, Indochine, Arch Rock Fish, and the not-yet-renamed-but-sure-to-impress-when-reopened Q's — continuing to expand. Meanwhile, the scene continues to spread out in all directions, whether that means a trip to the Funk Zone — where former coffeehouse Reds recently morphed into a cocktail lounge and Union Ale serves up hard-to-find pints — a jaunt to Alcazar on the Mesa, a stroll to West Beach for The Brewhouse and The Neighborhood, a slide up and off State for the Sportsman, Hungry Cat, or Milk & Honey, a visit to the Old Town Tavern in Goleta, a romp down Linden Avenue in Carpinteria, or a completing "The Loop" through Isla Vista's varied drinkeries.
Despite the steady weekend crowds, though, it ain't easy running a nightlife joint in high-priced Santa Barbara, even when it's not the middle of a recession. As such, turnover happens with tremendous regularity, and even the seemingly successful clubs often struggle to make basic ends meet. Those who do manage to persevere run almost solely on passion for the work and the joy of seeing the smiling faces of patrons each night.
For this, our annual nightlife issue, we've decided to celebrate these survivors, so what follows are profiles of 12 longtime bar and club owners from across the broader Santa Barbara community.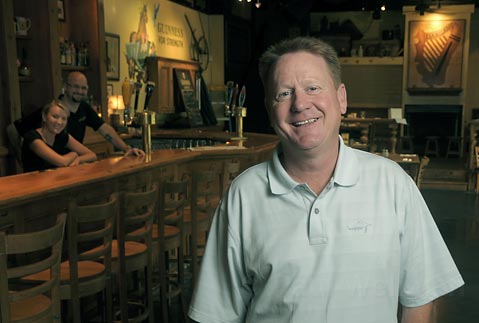 By Paul Wellman