Heading for the Hills: Lacking the euros to tour Europe this summer, I hit the road to "Switzerland of America" country in southwest Colorado.
It's got everything but Heidi: history-laden, colorful villages nestled in green valleys, pine-clad mountains flecked with wildflowers, and snow, even in early summer.
It's also been gentrified since the cowboy days and the gold prospector era. I found farmers' markets, coffee houses, proud talk of "agri-tourism," hormone-free cattle, and gourmet restaurants featuring fish air-freighted in. It's the New West.
Telluride, 8,750 feet high and once mule-trail land, now boasts ski lodges, posh condos, and multimillion-dollar homes owned by celebrities. A free gondola lifted me from downtown Telluride up to swank Mountain Village and its ski runs. Sue and I bunked at the nifty Mountain Lodge condos, which go for a bargain in summer. But if there's a next time we'll drop our bags at the restored 1891 New Sheridan Hotel, right smack in downtown Telluride and next to the best eatery in town, the Chop House.
It's a beautiful, chandelier-hung room, where tourists dress up. Steaks are the big thing here and a 14-ounce 30-day dry-aged bison rib-eye goes for $42. We shared an excellent $18 burger.
Telluride and its neighbor Ouray are like fraternal twins who share the same mining era history. But Ouray clung to its roots while Telluride carved out fame and fortune as a luxury winter sports resort and summer vacation destination. Their main streets are similar and the towns aren't far apart as the condor flies, about 18 miles. But they're separated by the daunting San Juan Mountain Range. By highway it's 48 miles; in summer they're connected for the hardy by a rough Jeep road over hazardous Black Bear Pass, a jolting, jouncing ride.
In Ouray, we jumped into a red Jeep run by the Switzerland of America tour people and climbed into the billygoat country of snowy Imogene Pass and its high, windy, and chilly 13,000-foot tip-top. From there we gazed down at Telluride, took pictures and headed back home. The whole enchilada some other year.
Ouray is more down to earth than fancy Telluride. Its main claims to fame are the charming main street, magnificently restored 1886 Beaumont Hotel, a mine tour just outside town, and the Jeep rides up the mountains. Victorians line the streets above town. Teddy Roosevelt slept at the Beaumont. But the 12-room hotel was an abandoned wreck when genial Dan King bought it a few years ago and lovingly sunk $6 million into it which he will surely never get back. When we visited, it was on the market for about half that. Hot springs come gushing out of the mountain at the edge of town, and places like the Box Canyon Lodge pipes the stuff into its hot tubs. (800-327-5080.)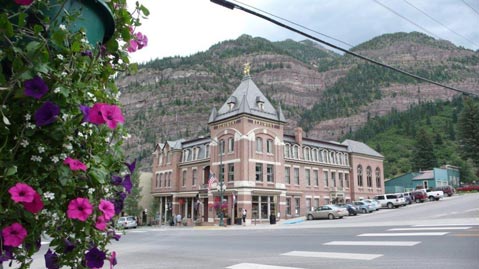 By Sue De Lapa