Though Bill Boyce has been homeless in Santa Barbara since 2007, downtown shoppers and business people wouldn't recognize him. He doesn't hang out on State Street, sleep off benders in De la Guerra Plaza, or panhandle at a freeway off-ramp. Even at Casa Esperanza homeless shelter, where he occupies one of the 50 Transitional Living program beds available annually between April and November, he spends most of his time in the laundry room, helping wash the cascade of sheets, towels, and blankets shelter residents use every day.
Things are looking up for Boyce lately. Having lost 214 pounds in two years, he is now within 25 pounds of the weight he needs to be for surgeons to safely repair the massive umbilical hernia he acquired four years ago. What would have been a simple surgery at first will now be complex and challenging because Boyce had neither the health insurance nor the cash to pay for treatment.
If all goes as planned, Boyce, who is enrolled in Medi-Cal now, will soon have his hernia repaired and receive a Section Eight Housing Voucher from the Housing Authority, too. Then he'll be able to look for a place of his own and begin seeking employment.
If his voucher doesn't come through by April, it's also possible that Boyce will find himself sleeping on the floor of the Santa Barbara Rescue Mission or, failing that, behind a building somewhere. Because Casa Esperanza is facing its most challenging fundraising climate in years, its board is contemplating cuts that seemed unthinkable back when the economy was steady. According to shelter Executive Director Mike Foley and veteran Boardmember Robert Pearson, if donations don't pick up soon, the shelter's 50-bed Transitional Living program will simply have to go.
"To me, if something's going to have to go, it's the transitional housing beds," said Pearson, who, as executive director of the Housing Authority of the City of Santa Barbara, guided the Casa Esperanza project through the city's planning maze 10 years ago. "I would love to be everything to all people, but we have to raise
$1 million a year and it's tough." Pearson worries that Casa Esperanza's 30 medical respite beds might have to go, too.
Private donations are, of course, down everywhere, not just in Santa Barbara. But as causes go, the homeless don't generally arouse enormous amounts of sympathy, making matters that much harder. As a group, they include addicts and the mentally ill. As Pearson put it, "It's not mothers and children."
In the last fiscal year, Casa Esperanza's operating budget was $2.1 million, $850,000 of which came from government coffers, including the city and county of Santa Barbara. The remainder was raised from private foundations and individuals. David Peri, Casa Esperanza's board treasurer, said it's these donations that fell short, to the tune of $400,000. But rather than cut programs mid-year, the shelter opted to take out a loan. This year, it's having to face the reality of reduced funding head-on. On the positive side, a $250,000 challenge grant with a deadline of July 31 was secured. If it makes the challenge — and it's more than halfway  —  the Transitional Living program will be safe through November 1, according to Foley. However, to keep those 50 beds up and running beyond the winter shelter and into the spring and summer of 2011, another $250,000 will be needed.
The numbers of beds at the shelter has always been a piping-hot topic. Milpas Street businesses and homeless advocates have squared off repeatedly on the subject of bed quantity at 816 Cacique Street. Even small increases get business owners up out of their office chairs and into the mayor's office. When the shelter first opened, there was meant to be a 200-bed emergency shelter in the winter months. Two years later, 30 year-round beds for medical respite were added for very sick homeless people and patients just released from Cottage Hospital. But in 2004, the shelter approached the city and asked if it could use 70 of the beds left unoccupied between April 1 and December 1 for people willing and able to get into housing and willing to work a prescribed plan with a social-service provider, to stay sober, and, if employed, to pay one-third of their income into savings and another third to the shelter as a way of mimicking rent.
It took eight months to get the area business owners to agree to let it happen. Now, the 70 non-medical, off-season beds break down into categories: 15 mental health beds paid for by Alcohol, Drug and Mental Health Services (ADMHS), and five urgent beds paid for by the Department of Social Services and reserved for outreach worker Ken Williams to give away at his discretion. The remainder are the 50 Transitional Living beds. Having one is considered a privilege that can be revoked if the occupant starts using a substance again, stops working his or her "plan," or otherwise behaves badly enough to disturb the collective peace. But if you don't cause trouble and work your plan, you get to stay and, hopefully, find your way into housing.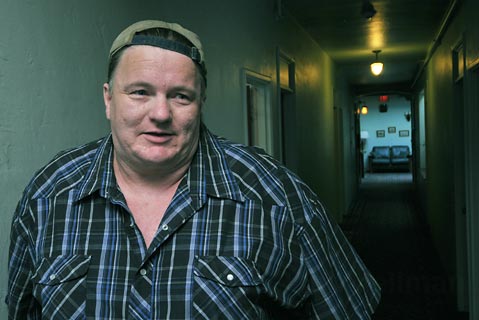 By Paul Wellman