It is Friday, March 5, day six since the earthquake in Chile and I am still in Santiago, on the 19th floor of my hotel, shaking around from the aftershocks.
The situation in Santiago has stabilized. Besides traffic issues caused by collapsed or damaged highway bridges, life seems to be back to normal, to the eye of someone who just arrived here that is. People are still afraid of the continuing aftershocks and their eyes open wide during discussions about the events of the morning last week when the 8.8 magnitude earthquake struck.
I have been spending most of my time in Santiago, waiting for the airport to open back up so American Airlines can send a jet down here. Three days ago I called American Airlines and the lady I spoke to informed me that she didn't see any irregularities concerning Santiago on her screen: Well informed! As far as we can tell from that source, the airport is now, on Friday, open and we are scheduled to fly out tonight.
Yesterday we rented a car and drove south toward Talca, close to the earthquake's epicenter. We were warned that the main highway, Route 5, was damaged in many spots and the drive could take very long. Tired of being shaken around in the hotel, we disregarded the warnings and headed south. After initial issues with our GPS, which sent us into downtown Santiago on a nice little detour, we were making good headway until about 20 kilometers north of Rancagua: The highway was closed and we had to detour via a country road. But next to the bridge that had caused the highway's closure, the road too had completely collapsed: It had cracked, and dropped six feet. A little further down the country road we reached another bridge crossing a highway. This bridge had completely collapsed as well, and the road leading up to it had shifted, cracked, and dropped. It was a sight of complete destruction.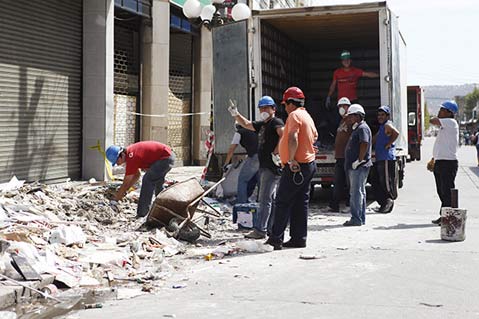 Jonas Jungblut