The only voice raised at Soup de l'YMCA's Soup-Off competition on March 1 was that of event emcee Kate Schwab, who also raised something more important in the process: money for the YMCA's Campaign for Youth. That Monday, four celebrity judges gathered their collective critical prowess to declare one victor out of the five finalists' soup recipes. When the soup had settled, Sopa de la Reina (a soup created by Chryss Yost) beat out Fiesta Chicken Tortilla Soup (which was declared "fan favorite"), It Takes a Village (People) Soup, I Yam What I Yam Soup, and Dinner for Dumbo Soup in a battle that tested ingredient combination skills at their best.
So why soup? "Soup is a healthy, comforting meal to share with your family or friends, and that's what the YMCA is all about," said David Damiano, president of the Downtown Organization and part of the team of fundraisers who are aiming to raise $150,000 in 2010 to enrich the lives of kids and families in need. "Why just ask people for money when you can make them cook or eat for it?" All proceeds from the Soup de l'YMCA contest go toward the Campaign for Youth, which introduces kids to new experiences, such as camping.
Let's rewind to February, when a call went out to cooks from Goleta to Montecito to enter an original soup recipe into the contest. The catch: All entries had to include one major ingredient that begins with the letters Y, M, C, or A. Kate Schwab was excited in the planning stages about this catch to the soup creation: "I knew that would give lots of creative cooks out there just the challenge they needed to inspire them to enter." Recipes were submitted with a $25 participation fee by February 18, and the top five entries were selected to attend the Soup de l'YMCA Taste-Off at State and A Bar & Grill (1201 State Street, 966-1010, stateanda.com).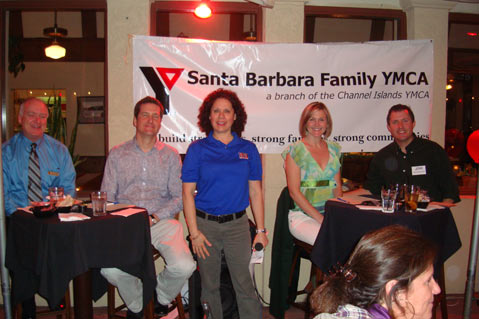 By Courtesy Photo