As soon as my kayak dropped into the trench of swirling white water, I was pretty sure I wasn't going to make it out right-side up. All I had was one wave to go, and I'd be through the worst of the Cliffside Rapid—one of the largest we'd yet encountered on this six-day rafting trip with Far and Away Adventures down the Middle Fork of Idaho's Salmon River.
I paddled fiercely, nearly topping the wave, but then the surf curled over my inflatable ducky, as they're called on the river, and I went into the cold, wild water. When I surfaced, I was staring at the underside of a blue raft as it sped toward my head. "Oh shit," I thought, "this is how people drown."
In reality, I wasn't close to drowning. Surrounded by professional guides and geared with a helmet and life jacket, the chances of getting seriously hurt were slim. The raft did land near me, though, close enough for one of my fellow campers in the paddle boat to pull me from the swirl. A bit giddy from my exhilarating—and slightly unnerving—experience, I jumped back into my kayak and paddled the short distance to camp.
I'd signed up for this Idaho adventure because it seemed the perfect mix of thrill seeking and cushy comforts. Run by Steve and Annie Lentz, Far and Away promised six days of exploring "the outdoors with a level of safety, service, and comfort surpassing all expectations," as well as an educational tour of "a truly amazing resource—this world's wilderness." Navigating a remote, untamed river during the day, relaxing in the evening with gourmet food, a nightcap around a fire, and then 40 winks in a two-person tent fitted with cots and a wee table, the river's roar a lullaby—brilliant.
From Santa Barbara I took an easy flight to Sun Valley, where I spent the night at the Tyrolean Lodge in the adjoining town of Ketchum. The next morning, under a robin's-egg-blue sky, a shuttle picked us up for a several hours drive to Boundary Creek, where the boats awaited. On our way there, we stopped in the small town of Stanley, for last-minute personal supplies. I was one of 23 people — ranging from kids under 10 to grandparents in their seventies — on the trip; we were to spend the next week traveling 100 miles of the Middle Fork section of the Salmon River, which runs through the heart of the Frank Church Wilderness, a 3.3-million acre national forest sanctuary.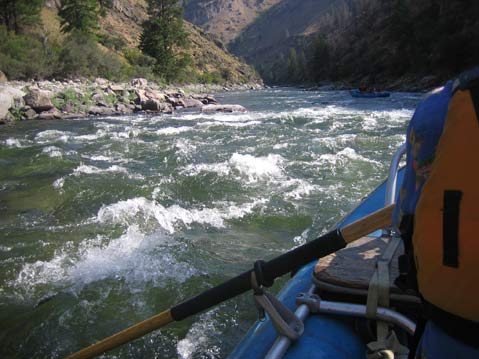 By Courtesy Photo