The contract to erect a suicide barrier on the historic Cold Spring Bridge on Highway 154 was awarded yesterday, March 24, to Bugler Construction, a company based in the Bay Area town of Pleasanton. Work on the protective fence — which is intended to block those who want to kill themselves from leaping off the 1,200 foot span down to the rocky canyon roughly 420 feet below — is expected to start this summer, as long promised.
The project's construction costs are expected to be $648,000, which will be covered by the $1.5 million in federal stimulus funds that the Santa Barbara County Association of Governments (SBCAG) earmarked for the project last year. According to Caltrans spokesman Jim Shivers, the remainder of that money has been or will be spent on other expenses, such as staff time, preparation of documents, and "all of the costs associated with the daily business of attending to and moving this project along."
The barrier project has been in the planning stages for nearly four years, as a town hall meeting was held at Santa Barbara City College in May 2006 to discuss the idea. Mental health advocates and relatives of suicide jumpers targeted the bridge for its high number of suicides, a tally that tops 50 since the bridge opened in 1963. In 2009 alone, as the debate over whether to put up barriers on the bridge became more vocal and publicized in media far and wide, seven people leapt to their deaths.
Despite the imminent construction, the fight is still not over for people such as Marc McGinnes, a retired environmental studies professor at UCSB who formed Friends of the Cold Spring Bridge to preserve the bridge's aesthetic beauty as an entryway to the Santa Ynez Valley and push for more effective means of suicide prevention. With the help of attorney Marc Chytilo, McGinnes is suing to stop the bridge barrier from being erected. He believes that the $1.5 million would be better spent on continuing the ongoing Highway 101 project and has argued to the federal government that it is an illegal misuse of federal stimulus funds under the provisions of the American Recovery and Reinvestment Act (ARRA).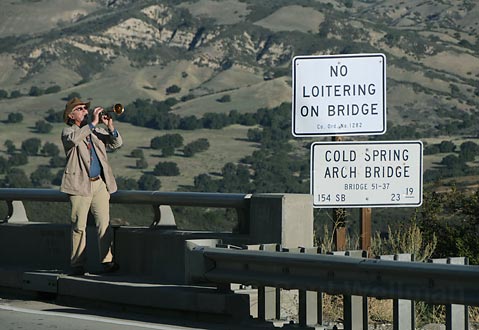 By Paul Wellman