The sixty-four-million-dollar question confronting environmental activists and liberal Democrats is how three little letters could have morphed into such an inflammatory four-letter word. The letters in question are PXP, the acronym for Plains Exploration & Production Company, the Houston-based oil company whose complex and controversial offshore drilling plans have generated a toxic rift among former friends and allies in the environmental movement. Fallout over this split has defined the Democratic primary for the 35th Assembly District, pitting two solidly liberal Democrats with otherwise impressive environmental credentials — Santa Barbara City Councilmember Das Williams and 15-year coastal advocate Susan Jordan — against one another. Were it not for PXP and the competing waves of backlash it's generated, it's doubtful there would have been a Democratic primary contest at all. Certainly, it would not be this one.
By any reckoning, this year's primary ranks as the nastiest intra-party slug-fest over the South Coast's Assembly seat in many decades. Last week, Jordan bombarded the mailboxes of likely Democratic voters with a glossy flyer accusing Williams — the most aggressively green member the S.B. City Council has ever seen — of supporting "the first new oil drilling in 40 years." Inside, the mailer contained color photographs of BP's burning rig in the Gulf of Mexico, a photo of a smiling Williams, and a newspaper headline reading "Oil and Money." Other versions included images of oil-soaked birds, as well.
About 35 local activists with the Democratic Central Committee — solidly behind Williams — responded angrily. They accused Jordan — at a courthouse press conference Monday afternoon — of violating a signed commitment not to go negative. Jordan, they charged, misrepresented Williams's lifelong opposition to offshore oil drilling. Not only that, they complained, she slimed him personally. If Democrats beat themselves bloody during the primary, they argued, it will be much harder come the fall to unify against the Republican nominee.
Neither Williams nor Jordan were present at the event, though a contingent of about 15 sign-wielding Jordan supporters — mostly union activists from Ventura and Oxnard — were also on hand. In an interview afterward, Jordan said she had no intention of backing off. "The photos of the birds are powerful, but this is the reality we face if there's a spill," she said. If PXP were approved, the chance of spills increases from 5 percent to 10 percent, according to an environmental assessment. "That's 100 percent," Jordan said. She insisted her mailers did not violate the clean-campaign pledge, that her ads are factually accurate, and didn't misstate Williams's record. "It is unfortunate and undemocratic that some feel telling the truth is somehow 'negative campaigning,'" Jordan said. "I strongly disagree."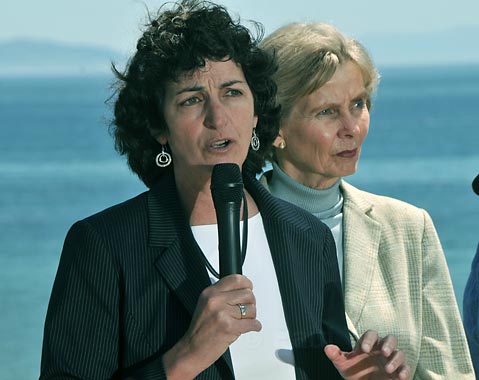 By Paul Wellman (file)