The land of chukkers was taken over by football chuckers Friday. More than 100 young quarterbacks from all over the country practiced their craft on the spacious turf at the Santa Barbara Polo & Racquet Club. They were the chosen ones from 12 previous stops on Steve Clarkson's "Dreammaker Tour." After three days of competitive workouts here and another weekend of reckoning in New York City, Clarkson and his staff will name the "Super 7" who will be feted in Maui the first week of July.
It has been described as an "American Idol" for quarterbacks, the rock stars of football. The cast of characters at the polo fields included:
THE HEAD HONCHO. Clarkson, a former San Jose State quarterback, has parlayed his success at teaching the position – Matt Leinart, Matt Cassel, Jimmy Clausen, Matt Barkley and Terrelle Pryor are among his past clients – into a profitable enterprise. It costs several hundred dollars a month to participate in his group sessions, and private lessons, limited to a couple dozen prospects, reportedly run $8,000 a month.
He has brought his tour to Santa Barbara for the second time in three years, to the benefit of the local economy. "People are driving out from Oklahoma and Texas," he said. "We've almost sold out a couple hotels."
Clarkson played the part of "Idol's" Simon Cowell during a passing drill Friday. "If a girl from college sees you throw that ball," he said after a pass fluttered into the ground, "she'll be your ex-girl."
Photo Gallery
Steve Clarkson QB Camp 2010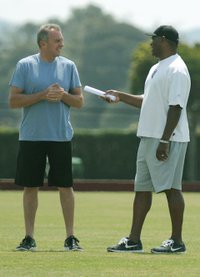 THE MONTANAS. Nate and Nick Montana participated in the drills while their father, Hall of Fame quarterback Joe Montana, kept a close eye on them. Both his sons have graduated to the college ranks and showed promise in recent spring games – Nate at Notre Dame, and Nick at Washington.
Nate spoke approvingly of new Irish coach Brian Kelly. "I like him a lot," said the sophomore quarterback. "He's a really energetic guy. He's a change of pace from Coach [Charlie] Weis. I think he's good for the team right now. He's way more involved with the team, a lot more approachable definitely, whereas Coach Weis was more telling everybody what to do through other people. It's nice to have a real relationship with your head coach."
Dayne Crist is projected to be Notre Dame's starting QB, but Montana made a statement by going 18 for 30 for 223 yards and three touchdowns in the spring game.
Nick Montana enrolled at Washington early after a stellar senior year at Oaks Christian High last fall. He was the star of the Huskies' spring contest, engineering an 80-yard drive and throwing a TD pass on the last play of the game to give his team a 14-13 victory.
It happened that Joe Montana threw a TD pass on the very last play of his college football career to give Notre Dame a 35-34 win over Houston in the 1979 Cotton Bowl. It was bitterly cold in Texas that day, and I asked Montana, the winner of four Super Bowls, what he thought of the selection of New York/New Jersey as the outdoor site of the Super Bowl in 2014.
"I can understand their wanting to do it in New York," he said, "but you want to show every facet of the game. [If the conditions are really cold] you can't do certain things. You leave out parts of the game. I'd hate to see that in the most important game of the year." TV viewers may enjoy seeing Super Bowl teams struggle in ice and snow, Montana said, "but those games are no fun to play." What about that Cotton Bowl, when the Irish rallied from a 22-point deficit in the final quarter? "We were lucky to have the wind at our backs," Montana said.
THE HURT LOCKER. Nick Montana expects to back up senior Jake Locker, one of the nation's top returning college quarterbacks, in Seattle this fall. Locker is a counselor on Clarkson's staff. "I've seen him at this camp for the last two years," Montana said. "I got a chance to talk to him about Washington. He's a great guy, he's a good quarterback, and he's getting better under [Huskies coach] Steve Sarkisian. That's where I want to be someday."
Locker could have entered last month's NFL draft, but he said, "I have things to work on. I want to become a better student of the game." He is a terrific athlete who was taken by the Los Angeles Angels of Anaheim in the baseball draft last year, just in case his football future does not pan out.
The injury potential in football is well known to Locker. He survived a vicious helmet-to-helmet collision with Oregon State's Al Alfalava two seasons ago. "My first memory is two minutes after it happened," Locker said. The incident inspired a Facebook petition titled "Jake Locker Should Slide." Locker agreed that the wisest move would be to "get down a little sooner" when he's about to be slammed.
THE PRODIGY. David Sills is one of the quarterbacks personally tutored by Clarkson. He comes out to California several times a year from his home on the East Coast. Clarkson thinks so highly of Sills that he recommended him to USC coach Lane Kiffin. When Sills received a scholarship offer and made a verbal commitment to the Trojans earlier this year, college football bloggers took it as a sign of the apocalypse.
Sills will not be eligible to play until 2015. He celebrates his 14th birthday today (May 29). He will be entering the eighth grade at Red Lion Christian Academy in Bear, Delaware, this fall. He's still a year away from playing varsity football. He is confident he'll be a four-year starter once he gets to the ninth grade.
Sills seemed unfazed Friday by the notoriety of being the youngest college football recruit. "SC's always been my favorite school," he said. "I love the quarterbacks that come out of there. Leinart and Barkley are my two favorites."
He said he's "about 6 feet tall" and weights 145 pounds. "My doctor said I'll grow to be 6'5" or 6'6"," he said. In order to fulfill his commitment five years from now, he said, "I gotta keep working hard, keep my grades up, stay in the weight room, don't get lazy with anything."
A lot can happen between now and 2015, but right now, that limb that Steve Clarkson has taken himself out on is holding up.