Let's face it: music fests are all about the headliners. Whether it's Coachella, Lolapalooza, or South By Southwest, fans are looking to find the biggest bang for their buck, and that means seeing as many big shows for a small price as humanly possible. And while we're not ones to steer you wrong—or forgive you if you miss Friday's killer Massive Attack/Thievery Corp show —we also think that there are plenty of up and comers on this year's New Noise bill that you best not miss. Below, our team handpicks some of 2010's under-the-radar winners, and dishes on where and how you can catch 'em before the break.
Snakefist
Where: Whiskey Richards (435 State St.)
When: Thursday, November 4, at 10:45 p.m.
Why: Aside from being this year's Downtown Sound battle of the band winners, these S.B. boys know how to bring the rock. And they do, with a high-energy mix of old-school metal antics and contemporary alt style. It's a heavy (but not too heavy) show filled with thrashing guitars, furious drums, and palatably intense vocals that you—and your folks—will want to headbang and fist-pump along with.
Peanut Butter Wolf (
DJ

Set)

Where: Perch at the Canary Hotel

When: Friday, November 5, at 4:30 p.m.

Why: As a deejay, producer, and label founder, Peanut Butter Wolf seems just the guy to kick off night two of New Noise Santa Barbara. From atop the Canary's rooftop, Wolf will deliver his eccentric mix of hip-hop, funk, and programmed beats, making for a happy hour that lives up to its name.
The Mighty Regis
Where: Velvet Jones (423 State St.) with Jack Grisham & The West Coast Dukes
When: Friday, November 5, at 9 p.m.
Why: Fans of Celtic punkers like Flogging Molly and Dropkick Murphys will feel right at home when these Los Angelenos strike up the jigs. Comparisons aside, these seven are out to create the most ruckus party they can, and deliver their accordion- and mandolin-colored tunes with an earnest attitude that's hard to find in today's punk rockers.
Skyler Stonestreet
Where: Muddy Waters Café (508 E. Haley St.) with Nico Stai
When: Friday, November 5, at 10:20 p.m.
Why: L.A.'s Stonestreet is a familiar face in the S.B. scene, thanks to her Ventura roots and frequent stops through town. But with a slew of new songs in the hopper, we're betting this pop-minded, funk-fueled songstress scores more than a few new fans come Friday, and breaks free of her Vanessa Carlton-meets-Katy Perry label to carve a name all her own.
HoneyHoney
Where: Velvet Jones (423 State St.) with Fitz & The Tantrums
When: Saturday, November 6, at 9:30 p.m.
Why: This Venice duo, made up of vocalist Suzanne Santo and multi-instrumentalist Ben Jaffe is kind of like Norah Jones for the younger set. Santo's rich, soulful vocals call out to classics like Ella Fitzgerald one minute and contemporaries like Fiona Apple the next. Mix that with a whole lotta banjo and a mean Smashing Pumpkins cover ("1979" anyone?) and you get a pairing too cool to be missed.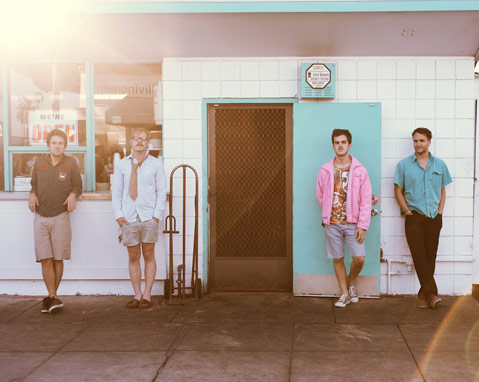 Cara Robbins/Brooks Institute