Given that wine is what makes much of Santa Barbara County go 'round, this summer The Independent started a new tradition of office tastings, in which submitted bottles from around the region and world are hidden in paper bags and then sampled blindly by a diverse panel of participants, from oenophiles who sip seriously to proud know-nothings who are interested in learning more. In the three separate tastings to date—and they do all happen after work, with plenty of spitting involved, in case you're wondering—the panel enjoyed nearly three dozen wines, most hailing from Santa Barbara County, but some coming from as far as France, Chile, and British Columbia.
The plan is to conduct quarterly tastings into the future; to submit wines or learn how else to get involved, email wine@independent.com. What follows is a brief roundup of the three tastings, with more detailed descriptions available online at independent.com/wine.
June 9 Tasting: Mixed Bag
Whites:
Zaca Mesa Viognier, 2009 ($20): Pungent with fresh jasmine notes, it could use another year in the bottle.
Manent Chardonnay, 2009 ($8): A grassy, crisp, walk-on-the-beach Chilean wine made us wonder whether we were sipping sauvignon blanc.
Viu Manent Sauvignon Blanc, 2009 ($8): Grapefruit and guava gave a perfect way to start the evening or eat some seafood.
Gray Monk Pinot Auxerrois, 2007 ($17): No one had heard of this grape from British Columbia's Okanagan Valley, but the Alsace varietal's slight honey sweetness was rounded out by tongue-tingling minerality.
À Côté Chardonnay, 2008 ($25): Getting the best of the oak without going overboard, this favorite offered a vanilla-tinged finish behind its fresh Granny Smith-apple forefront.
Reds:
Stolpman Syrah, 2008 ($38): Dark, inky, and mysterious, this combined a lanolin, meaty, espresso nose with a smooth, dark-chocolate-covered-cherry finish.
À Côté Pinot Noir, 2008 ($25): Jewel-toned garnet in the glass, this lighter pinot gave us cherry cola upfront, with a strong finish, perfect for pairing with a wide variety of food.
Evening Land Pinot Noir, 2008 ($25): Setting our taste buds in a frenzy, this presented a smoked-hickory meat bouquet, slowly releasing such flavors as tobacco, rhubarb, eucalyptus, and even Dr. Pepper.
Zaca Mesa Syrah, 2008 ($23): The ultra-opulent, fruit-forward front was nearly sweet, but found balance with spiciness and vanilla extract on the finish.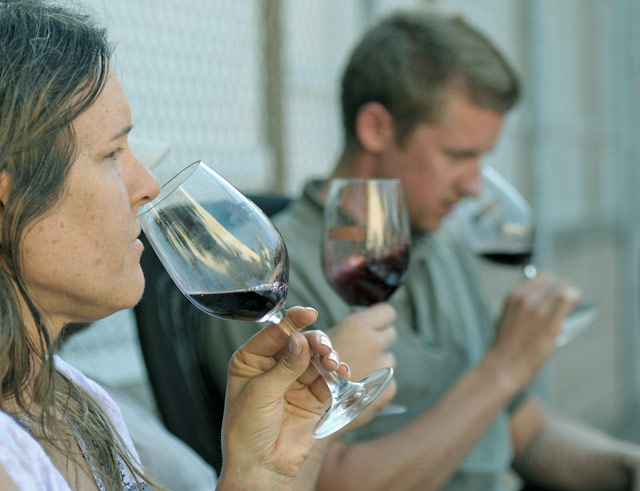 By Paul Wellman