For 81 years, the hands on the four faces of the Santa Barbara Courthouse Clock Tower have been ticking away faithfully with barely a glitch. But at noon on a recent day, they came to an abrupt halt. The reason wasn't a mechanical failure but rather the beginning of landmark restoration that will turn the historic tower into a living museum of timekeeping going far back into Santa Barbara history.
Photo Gallery
Santa Barbara Courthouse Clock Tower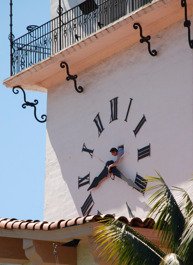 Slated for its public debut this coming January, the Bisno-Schall Gallery, located high in the tower amid the historic Seth Thomas clock's monstrous shafts and gears, will tell a multitude of stories in colorful, specially created murals on the walls of the clock chamber. For example:
- Why time is so important in our daily lives and how was it kept by the Chumash Indians long before the arrival of the Conquistadors with their mechanical timepieces;
- Why did the padres of the Santa Barbara Mission need bells and "Mission time" to observe their daily pieties, celebrate saints' days and ensure the health of their agriculture;
- Why did the coming of the railroad require the "standardization" of time and promote the advent of more accurate mechanical time-keeping devices, like the nearly century-old Seth Thomas clock that will again soon tick off the minutes and hours in the tower of Santa Barbara's beloved courthouse;
- How did such historical developments as the discovery of the pendulum, escapements, weights and drive trains, all of them part of works of our historic Seth Thomas clock, contribute to greater horologic precision.
And to show visitors just how well our 1929 pendulum-driven Connecticut clock is still doing time-wise, they'll see on display right nearby a space-age atomic clock with an accuracy of better than several thousandths of a second. That information will also be available on the gallery's Website. As far as it's known, the Santa Barbara tower clock is the only one in existence with such a high-tech attachment
The project is the inspiration of Dr. David Bisno, a retired ophthalmologist and part-time Santa Barbara resident who has pursued an active second career as an historian of science and strong advocate of lifelong learning, such exemplified by Santa Barbara's VISTAS group, which he helped found.
Link to photo galleries of clock restoration.
It was while Bisno was conducting a VISTAS's course earlier this year called "It's About Time" that he discovered that he could best explain the inner workings of classic clockworks by accepting an invitation from Courthouse Docent and VISTAS President Sue Mellor to take his students on a tour of the courthouse clock. They were joined by the Courthouse Clock Master, Mostyn Gale, a horology expert and the clock's voluntary engineer. For the first time in years, members of the public were allowed to venture into the dark and dingy room with its collection of creaking machinery.
As it happened, Bisno's VISTAS' "silver-haired scholars" included Montecito horology buffs Dick and Maryan Schall, owners of an extensive collection of historic clocks. After David and his wife, Fay, had enjoyed a glass of wine with the Schalls, while admiring their collection, Dick and Maryan responded positively and with much enthusiasm to David's idea that the dark and dingy room be transformed into a beautiful, world-class clock gallery. It was a fortunate confluence of a need, interests, inspiration, abilities and expertise. It was the right time and place for a major gift to the Santa Barbara community.
The two couples realized the tower's rarely seen clockworks could be turned into a unique vest pocket clock museum, sharing the beauty of the Seth Thomas tower clock with the community while simultaneously giving visitors a living lesson in the evolution of time-keeping in the Santa Barbara area.
Under the guidance of Santa Barbara County architect Robert Ooley, AIA and Clock Master Gale, the room is now magically being transformed into a unique brilliantly lit clock gallery. Bells are being hung, a new floor and glass walls are being installed and the clockworks are being lovingly cleaned and renewed. On the surrounding walls, a skilled, professional artist is finishing up creating the colorful murals that trace the history of keeping time in Santa Barbara.
To complete this major project early in the new year, an outstanding team is busily at work, most of them volunteers: eight clock experts, a graphics designer, a PR specialist, a muralist, a script writer, a museum lighting expert, a documentary photographer, a video-animation producer, specialists in Chumash and Spanish colonial history and the former curator of Harvard University's collection of historic instruments of time and space.
For those who would like to check the progress of this exciting work, they can check the Bisno-Schall Gallery Web site, which is being updated weekly by county architect Ooley, the project director.
Donations to the Courthouse Legacy Foundation, a 501(c)-3 nonprofit organization, can be made on-line.