There are the folks who are serious about working out and those who are not so serious but see the benefit. I was decidedly unserious when I hooked up with Prevail Conditioning, owned and operated by Westmont College alum Chris Ecklund. But it turned out Ecklund is exactly what I was looking for: an affordable, effective, and motivating personal trainer who didn't just talk a good game, but provided results.
Ecklund graduated from Westmont College with a degree in kinesiology and got his graduate degree in the same study. He is a certified personal trainer with both the American Council on Exercise and the National Academy of Sports Medicine. He is a credentialed Olympic lifting club coach and a certified strength and conditioning specialist. And he teaches classes at both Westmont College and UCSB. He has been training people since 1996—sometimes on a contract basis, sometimes at clubs—but finally decided he wanted to open his own private facility recently. "I couldn't really do what I wanted to do," he explained.
So he found a space on Haley Street, and last fall opened a 1,000-square-foot facility called Prevail Conditioning Performance Center. Inside is turf flooring, two Keiser functional trainers, two jungle gym weight systems, two ultra slides, Olympic lifting bumper plates, hurdles, and enough medicine balls to make your abs hurt. The gym isn't huge, but Ecklund maximizes the space to make room for hundreds of different kinds of workouts.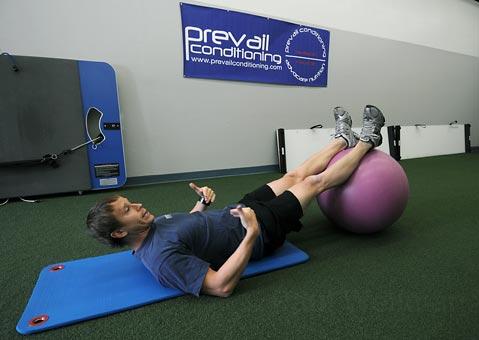 By Paul Wellman