Despite trying its damnedest, the City of Santa Barbara just couldn't stop this weekend's West Beach Music and Arts Festival. Over the past six months, the event's organizers, twin brothers Joshua and Jeremy Pemberton, have fended off every bureaucratic trick in the book intended to scuttle the four-year-old event. But while the show will apparently go on, the 26-year-old twins' scorched-earth approach to navigating the city's landscape of red-taped permits has left a mess of burned bridges and bad blood in its wake. So whether you believe city officials, who claim that the twins are in over their heads and bumbled the permitting process, or the Pembertons, who see themselves as victims of age discrimination and political favoritism, all eyes will be on this weekend's festivities to see whether there's a future for the fest after 2010.
Seen from the steps of City Hall, the twins' legacy of false promises and missed deadlines do not bode well for an encore. "This year it became glaringly clear that, for an event of this size and scale, they were unprepared," said Parks & Recreation Director Nancy Rapp early in the process. "They didn't know what they didn't know." Rapp's rampage against the festival was due to the 2009 edition, which generated 257 calls for service to police and so many noise complaints from miles around that dispatch stopped keeping track. Add to that charges of underage drinking, forged parking permits, obscenity-laced performances, unruly crowds, bad checks to the city, and vandalism at the waterfront, it was a no-brainer for Rapp to deny the twins' 2010 permit back in February.
Promising to rectify last year's problems, the brothers surprised everyone by not laying down. "We didn't say okay and walk away when they said no," said Joshua, who admitted to screwing up last year but remains dumbfounded about how three days of booming bass and puke-covered sidewalks could completely erode the reputation they'd established over the last three years. The twins successfully beat Rapp's denial in May during a three-hour hearing before the Parks & Rec Commission, but then had to battle again before the Santa Barbara City Council when hotel owner Tony Romasanta and West Beach resident Hilary Kleger appealed. That showdown was in June, when the council dramatically scaled back the event, moving it from West Beach to Chase Palm Park, capping attendance at 8,500 per day (last year had as many as 13,000 at any time), and cutting it from three days to two.
Although somewhat disappointed that their West Beach Fest isn't proceeding as it was originally planned, the Pembertons say they're still stoked with its new incarnation, arguing it will bring in tourists and generate $140,000 for the city. They don't expect to turn any profit despite sinking more than $1 million into the event ($4.2 million over the course of its four years), but claim it's only a matter of time before they're back in the black. They believe that the addition of Jose Cuervo-sponsored CuervoGames — an event that became yet another point of contention after Twiin Productions publicly announced the attraction despite being told they couldn't have it — will help convince other Fortune 500 companies to join in the fray. (The city relented when the brothers threatened legal action.)
But as they prepare for this weekend's party, the twins are contending that they've been picked on by out-of-touch bureaucrats because of their age and ambition — one councilmember reportedly said they were too entrepreneurial for their own good — and believe that they've ruffled feathers because their enthusiastic, if naïve, approach to wading through Santa Barbara politics was not the norm. "I know our age has been one of our biggest setbacks," said Jeremy, who brought older staff members to city meetings just to get an ounce of respect. "We have been victimized beyond anything that's reasonable. We are looked at as kids that threw a Floatopia party."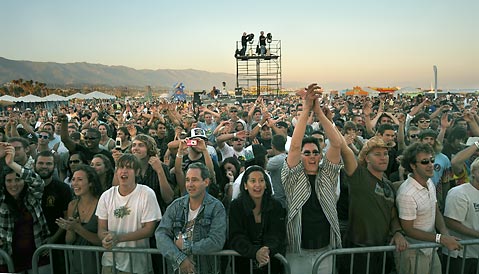 By Paul Wellman (file)