Feeling bad about the state of K-12 public education in California is way too easy to do these days, and, unfortunately, Santa Barbara is no exception. Certainly there are always minor daily victories in classrooms everywhere and the occasional standardized test score that can be pointed to as a much-needed silver lining, but the overall impression out there about our schools, whether you agree with it or not, is one of doom and gloom. And, after several years' worth of budgetary bloodbaths, class-size increases, teacher layoffs, staff cuts, program reductions, stubborn student achievement gaps, and a virtually global economic forecast that suggests things aren't getting better anytime soon, you really can't be blamed for having a pessimistic view. But you may not be as accurate as you think.
Right here on the South Coast, at a time when it seems much of our world is dead set on dividing us, there is a nonprofit group brilliantly bucking the trend and bringing people together from all areas of our community to do truly remarkable, innovative — and necessary — work both with and for our children. Even better, Partners, as it is popularly known, often aims its efforts right at the kids who need it most. As Kathy Boomer, Goleta Union School District superintendent, explained it last week, "Basically, they are exactly what the schools need. It is really a perfect partnership."
A multifaceted hydra of hope housed in Santa Barbara County's Education Office, Partners in Education was born in 1977 at a time when economics had public schools and families similarly strung out. The idea, to hear Bill Cirone, Santa Barbara County Schools superintendent, tell it, was to "create a dialogue between the business community and the school systems and try and come together with kids at the center." And so, with a spirit echoing that age-old adage "It takes a village to raise a child," the private/public partnership program has carried on in the three decades since, evolving into a wide-ranging, shape-shifting sort of organization that has the ability to positively impact everyone from the high school sophomore honor-roll regular to the Los Prietos Boys Camp teenage delinquent to the bright-eyed but underachieving 6th grader teetering on the brink of slipping through the proverbial cracks.
A people-powered umbrella of sorts that has the real potential to provide effective cover for many of the loose ends of the public-education fabric, Partners, among other things, now puts volunteers in classrooms at all age levels on the South Coast virtually every day school is in session, provides computers for thousands of Santa Barbara County students who otherwise couldn't afford the ever-critical learning tool, facilitates job training and paid internships for several dozen disadvantaged high school kids every year, organizes career days at both the junior high and high school levels, connects AmeriCorps tutors with high school–aged English learners, and reaches out to homeless students or those in foster homes with tutoring and counseling services. In short, as Cirone put it, "At a time when morale is a real issue because of dwindling resources [in our schools], Partners is showing our students and teachers and administrators that the community cares."
A Most Helpful Homecoming
In 2005, Ben Romo came back to Santa Barbara to become the executive director of Partners. The son of former Santa Barbara City College president John Romo, Ben left behind a hard-earned career in political campaign consulting and organizing (he worked famously and tirelessly for Congressmember Lois Capps and, before that, her late husband, Walter, among others) and decided to make the move home when the job offer came, eventually starting a family of his own in the same place that he grew up. The position at the helm of Partners, though a definite change from his years in the trenches of politico jockeying and mudslinging, was a perfect fit for a guy who described himself as "always running in education circles," and, with experience in the nonprofit, political, and corporate worlds under his belt, he was particularly qualified to head up the public/private operation that is Partners' calling card.
But, even with his résumé, he wasn't prepared for the depth and breadth of the problems facing public schools in Santa Barbara. "It was an eye-opener for me to see just how isolated and alone our schools have become," recalled the 38-year-old Romo. The cumulative impacts of essentially annual budget cuts and vastly reduced school services (i.e., counseling, classroom aides, career education, vocational training, etc.) all wedged underneath the oppressive thumb of various state and federal performance mandates had created a pressure-cooker situation where schools were being asked and expected to do more and more with less and less at their disposal to get the job done. Even worse, kids, especially those already hamstrung by less-than-ideal situations at home, were falling victim to the daunting equation every day. "I realized pretty quick how little I really knew about what teachers and schools are facing, on the ground, every day," said Romo.
However, in the six years since, Romo, along with Development Director Michelle Magnusson (a former social studies teacher at La Colina Junior High and Cleveland Elementary who joined Partners in 2008) and their staff, have helped evolve Partners into a well-oiled, well-connected, strategic entity delivering on the career education mandate of its founders with an unequaled — and still increasing — effectiveness while also developing a laser-like focus on helping solve many of the core problems plaguing our schools.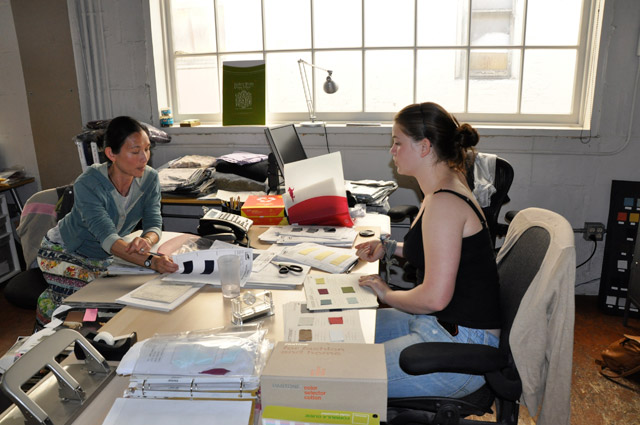 By Courtesy Photo