Banned in Sedona: In Sedona, high in Arizona's breathtaking red rock country, McDonald's arches aren't golden. They're teal-green, which should tell you a lot about this town of 10,000.
When the burger chain knocked at Sedona City Hall, zealous guardians of the region's open vistas and copper-colored mountains told McDonald's to take its golden arches and take a flying leap.
Leaders wanted no vulgar, ticky-tacky, pseudo-gold conflicting with the warm glow from Mother Nature's buttes, mesas, and towering cathedral-like mountains. McDonald's finally gave in. Now the eatery has achieved a sort of Internet fame as the only McDonald's in the world with turquoise arches.
Many towns with sign-height restrictions have told Big Mac to lower its iconic arches if it wants to invade with its gross fast "food." But never, never before did it agree to change the colors.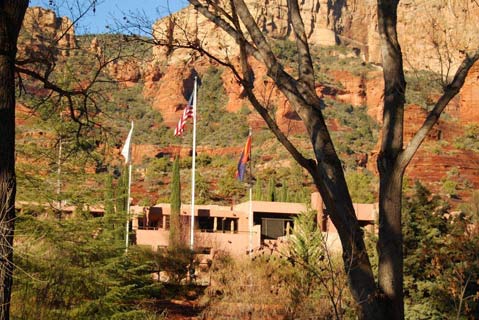 By Sue De Lapa