Walking into the old fire station at the corner of East Haley and North Quarantina streets on a recent Monday afternoon, the heat was rising, and the sweat was already dripping. The building hasn't been used as a fire station for almost two decades, but it's never really stopped bustling with energy. On this day, teenagers and young men and women were skipping rope, running treadmills, and punching bags beneath the faces of boxing greats like Muhammad Ali and Oscar De La Hoya, who stared down from yellowed posters that hung off the cracked walls and peeling paint above.
Behind a "Beware of Joe" sign on a door with a hole where the handle should be sat Joe Pommier, who has run the Primo Boxing Club with his wife, Jean, for 16 years, one year less than the club has been occupying the old firehouse. By the time the Pommiers took over, Primo was already approaching legendary status, having been founded in 1981 by Art Carbajal and, over the years, training kids at La Casa de la Raza, the Veterans Memorial Hall, and various beaches and parks around town. Under the Pommiers, Primo is open six days a week in the after-school hours, and the place thrives as a free escape for anyone who wants to pop in — and they do, with current estimates showing nearly 200 young people hang out at the club regularly, the vast majority being younger than 18 years old, most coming from extremely impoverished homes.
This particular Monday, one of those youngsters was Joe's latest protégé, a scrawny 8-year-old named Julio, who sported beat-up Vans, oversized Primo shorts, and a mohawk. He's already been coming to the club for two years and now trains five days a week. He likes football and basketball, but prefers working out and sparring with Joe. "It's kids like Julio, with lots of promise," said Joe as he taped the boy's hands. "I don't just want to give that up."
But this summer, despite being a bare-bones operation that costs less than $100,000 per year, Primo Boxing is finding itself on the ropes. Funding for the highly lauded program has dried up — a popular fundraiser was shut down a few years back, while civic and federal grants have evaporated amid the recession — and Joe and Jean are facing the very real threat that they may just have to throw in the towel.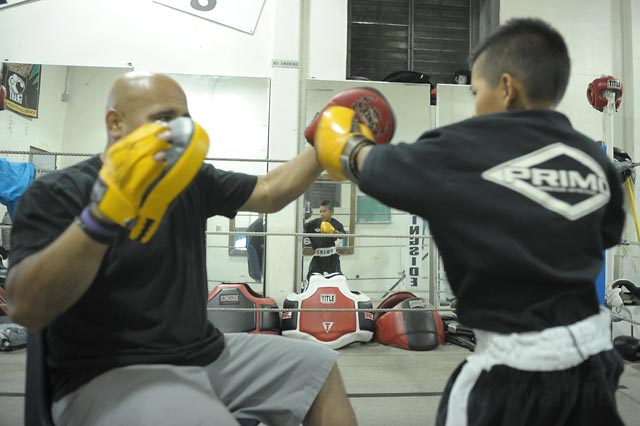 By Paul Wellman