For more than a century, Cottage Hospital has been Santa Barbara's beacon of health and hope, a place where babies are born, the sick are tended, and the injured are mended. Over the course of any given day, countless medical miracles are performed within its walls that offer relief to patients and their loved ones, and the hospital's impressive, ever-expanding campus is a testament to the place it holds in the hearts of many.
Because violence at medical facilities across the country is on the rise, hospitals have been forced to constantly reexamine and improve their safeguards. Cottage and its security squad deal with hundreds of incidents every year during which people — often in the midst of the most dramatic, anxiety-filled moments of their lives — let their emotions get the best of them. The guards' job is a dangerous one, and they're tasked with managing fast-paced, unpredictable situations with calm heads and cool demeanors.
Ronald Werft, president and CEO of Cottage Health System, said the hospital has the responsibility to provide a secure environment, which it does with evolving protocols that were ratcheted up after a woman was able to steal a newborn infant from the maternity ward in February 2009. She was apprehended a few hours later and the baby safely returned. "It's an obligation we take very seriously," Werft said, noting that not only do patients and visitors appreciate the assurance, but staff also take solace in knowing they're always protected.
However, there have been questions raised about security methods. During the past five years, security staff members have been accused of using overly aggressive techniques — choke holds, pepper spray, and attack dogs — to deal with visitors and patients who step out of line, injuring them in the process. In interviews with attorneys and visitors, The Independent heard a number of anecdotal complaints, but this story will focus only on four cases that have been officially documented, either by civil lawsuits or police reports. One case is headed to civil trial next month.
Nearly everyone interviewed for this article — from law enforcement personnel to attorneys to the complainants themselves — said security guards were correct to initially engage the people in question. But events escalated to the point that the hospital visitors felt they were treated violently. Though the police, following the guards' accounts, charged the visitors with crimes, in the end, the District Attorney's Office dropped or reduced all charges because of limited time and resources.
The Independent recently viewed security footage of a three-on-one takedown of a man who got into an argument with officers. We then compared it to the narratives given by the guards to police, and we believe the video and police report tell two different stories. Nevertheless, this case has yet to be formally filed. Not only is the would-be plaintiff having a hard time finding a lawyer to take on Cottage, but he's also deterred by the impact a lengthy and expensive trial would have on his family and business.
During interviews, multiple high-profile lawyers around town admitted they're afraid to represent clients who've had messy dealings with guards and nervous about taking on a seemingly insurmountable foe like Cottage, arguably the largest, wealthiest, most influential institution in Santa Barbara. They also said that they're reticent about getting on the bad side of the administration of the only hospital in town and then being forced to go there for treatment.
"No one screws with Cottage," said one attorney, who wished to remain anonymous. "Especially with this kind of thing. That's the problem with having a monopoly."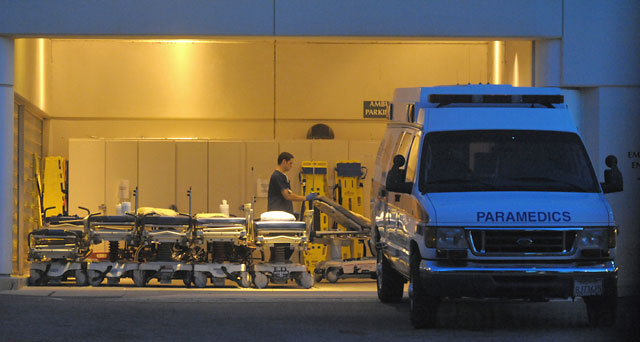 By Paul Wellman