For Zoe Schiffer, growing up in Mission Canyon was a child's equivalent of la dolce vita — the sweet life. Born in 1992 to Kim and Howard Schiffer, Zoe is dark and pretty, a vegan with a quick wit who is majoring in creative writing at Seattle University, where she is a freshman. With her older brother and younger sister, she spent her childhood in a modest home situated at the end of Tunnel Road, near the entrance to the Seven Falls trail. Chickens and turkeys roamed her backyard, maneuvering between a compost pile and a set of avocado trees that together conspired to keep her yellow lab Artemis incorrigibly fat.
Zoe's father runs an international charity called Vitamin Angels. Her mother, a chef, is one of Santa Barbara's first "slow food" proponents. By the time Zoe was born, the two were no longer hippies, but they still maintained a progressive spirit born in that era. Zoe guesses that she spent at least a quarter of her childhood shoeless, and when they weren't reading, she and her siblings were outside, making lizard-catchers in their backyard or prowling through the densely unkempt canyons and ridges around their home.
"Growing up in Mission Canyon preserved my innocence for a long time," Zoe told me recently during a break from school. It was a clear morning, and we were at the French Press, a coffee shop near the yoga studio where she takes classes. Sipping an Americano, she recalled her childhood fondly. "I had a lot of freedom. We didn't have a TV, so we really had to make everything up — we had to create our own fun." For years, Zoe said, she and a girlfriend a ridgeline away would meet at their fence lines and carry on shouted conversations across the canyon floor.
Idylls, of course, appear eternal — that is partly what makes them idyllic. But even idylls end. A little before 2 in the afternoon on May 5, 2009, a spark from a power tool started a fire near a trail in the back country not far from Tunnel Road. The resulting conflagration — which we now know as the Jesusita Fire — consumed nearly 80 homes, among them the Schiffer family's. But when I asked Zoe if she could envision herself one day returning to live in Santa Barbara — fire risk and all — she nodded affirmatively.
Take a moment, however, for a thought experiment: What if somehow real estate prices in Santa Barbara miraculously dropped and a creative writing major could afford to buy a house in the same beautiful canyon in which she was raised? Zoe would have to take into account something that her parents never had to think about — global warming. Even I, who frequently write about climate change, nevertheless spend a considerable amount of time not thinking about it. I was born and raised in Santa Barbara, and when I consider whether I'd like to raise a family here — which is to say when I brood about how to afford to raise a family here — I scarcely ever take into account the probability that the future will not be like the present. "I don't think I can be the only person who finds in myself a strong degree of psychological resistance to the whole subject of climate change," the British journalist John Lanchester has written. "I just don't want to think about it."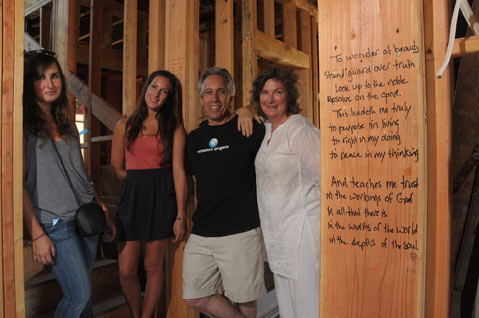 By Paul Wellman