Last November, I was hanging out with a friend from high school, and he told me that one of our classmates had moved to Santa Barbara and opened some sort of gym. "That's cool," I responded without much enthusiasm, for I only vaguely remembered the classmate as a water polo star and had never really been much of a gym person at all.
But then that next week, I received an email from a marketing agency, asking for someone from The Independent to come visit this gym down on Anacapa Street, check it out for a few months, and write some reports on the experience. The gym was CrossFit Pacific Coast (CPC), and one of the owners was Eric Malzone, Bellarmine College Prep class of 1995, just like me.
When serendipity knocks, I always try to answer, so I quickly found myself without any more excuses for not getting in shape. In mid December, I went to the gym and met up with Eric — who remembered me even less than I remembered him, being that we were from different sides of San Jose and ran in different social circles — and I also realized that he had gone to elementary school at Sacred Heart in Saratoga, where my great aunt, Sister Aileen Donahue, had served as principal for many years. We discussed the CrossFit philosophy and program, and then he had me do the prescribed "baseline" workout, which I proudly executed in less than seven minutes. But then, less proudly, I puked all over the street in the pouring winter rain.
Since January, I've been hitting up the CrossFit classes with a decent degree of regularity, and have appreciated the results — I've lost weight, gotten much stronger, especially in my core, and enjoyed the efficient bursts of exercise more than any other workout routine I've tried over the years (namely running and biking). Plus, I've met some pretty cool people and reconnected with others, namely Malzone, who turns out to be a friendly, level-headed, and humble guy. The 34-year-old recently answered some of my questions about his life and gym.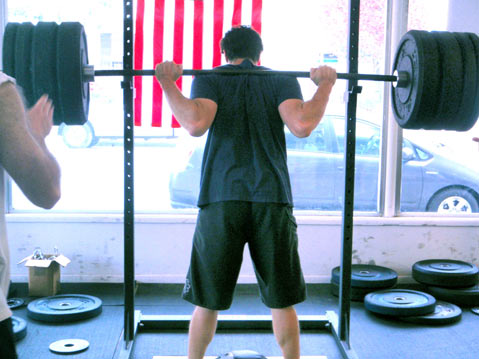 By Courtesy Photo