I still can't say exactly what it was about Ben Greenspon's story that drew me in. Part of it was the almost incomprehensible disconnection between his life sentence in prison and his ordinary boyhood — one that sounds not unlike my own early years in Santa Barbara.
Ben was born in 1972. He was a typical Southern California kid — an adventurous, energetic boy who grew up running wild on a beautiful property off San Marcos Pass owned by his loving mother and stepfather. He went to Mountain View School, La Colina, and San Marcos High. He was a good student and a talented competitive surfer. Those who knew him in his childhood and teen years remember him as charmed, charismatic: the kind of guy who attracted people — and luck — without seeming to try.
He also had a habit of breaking the rules: At eight, he was stealing candy bars; at 12, he would wait for his dad to go to work, then load the car with surfboards and drive to the beach. In high school, he was popular, partying with the Montecito crowd. He started stealing VCRs from his friends' parents and pawning them for extra cash, then forging checks. He was in and out of juvenile detention centers, but the experience of incarceration didn't seem to deter him.
November 12, 2008
As a boy I ran away every day. I never went far, and I always came back happier, free. It wasn't until I was a man that I lost my way, and ran away for real.
Before long, he was robbing banks and treating his friends to lavish gifts: sports cars, designer suits, weekend gambling sprees. In 1994, at age 21, Ben was arrested for bank robbery and sentenced to seven years in federal prison. In 2000, he was released on parole, and reunited with his family. He was stunned to be free again; his mother remembers him standing in shock in a supermarket, paralyzed by so many choices of what to eat for dinner. Yet within weeks, Ben borrowed his mother's car, walked into a bank in San Luis Obispo unarmed, and walked out with a bag full of cash.
This time, his spree of robberies lasted less than two months. On April 25, 2000, a high-speed chase culminated in Ben struggling with a female police officer. He has always maintained that he was trying to get her to shoot him — he says he knew his luck was over, and he didn't want to live beyond that day.
But live he did. He faced 11 felony counts, including attempted murder of a peace officer — a charge that was eventually dropped. Yet between his prior convictions and his latest slew of crimes, he was sentenced to 132 years to life in prison under California's three-strikes law.
January 5, 2009
I ran and ran, and never considered that I was a traitor to my loved ones. Now I live with the guilt, and when my mom's eyes tear up during a visit I see a galaxy of burnt bridges.
I first heard about Ben's story in 2008, when I was working as an arts editor for The Independent. At a story-idea meeting one afternoon, I mentioned my interest in prison art. "That's funny," said one of my colleagues. "My girlfriend's brother is in prison for life, and he's helping other inmates get their art to the public."
I wrote my first letter to Ben that week, and he wrote back. As our correspondence continued, I realized that what I had thought of as an interesting visual art story was something else entirely. Yes, Ben was encouraging fellow prisoners to draw and paint, but the real story here was about one man's determination to live a meaningful life, even if it was a life behind bars. This time, I wasn't dealing with a play or a novel or a film. It wasn't a metaphor — something I remembered with a new shock every time I opened another of Ben's letters. I was corresponding with a man who had broken the social contract so many times, and so flagrantly, that society had banished him.
March 22, 2009
I'm full of things to say but have no one to say them to. I'm sure of who I am now — who I would be — but nobody knows that, and that's where the trail fades off into the woods.
And yet, amid the tragedy, disappointment, and waste, I discovered hope in the form of Ben's creative impulse. Faced with a life in prison, he had begun not only to encourage others in their artistic pursuits but also to write — and to write prolifically. He wrote letters, essays, short stories, and novels. He asked fellow prisoners to create drawings based on his writing. He turned down recreational time in order to write. I was being let in on one man's struggle to find his voice, even when his freedom was lost forever.
June 2, 2009
I have more regrets every year, and my once grand ego is a wilted, common daffodil … I'm a fool, a selfish fool … but hope is a thing that both floats and sinks. I'm still floating.
It's been six months now since Ben and I stopped corresponding, but his letters still haunt me. It isn't their literary merit that makes them so unforgettable; it's that they represent a voice society has all but silenced. It's a voice thick with guilt, frustration, and sorrow, but against all odds, it's also a voice of hope.
In writing this story, it isn't my intention to report the facts of Ben Greenspon's case; that's already been done. Nor is it my aim to make sense of his crimes, or to offer any kind of resolution. My intent is simply to bear witness to a Santa Barbara boy who isn't coming home — Ben Greenspon: surfer, robber, writer, lifer.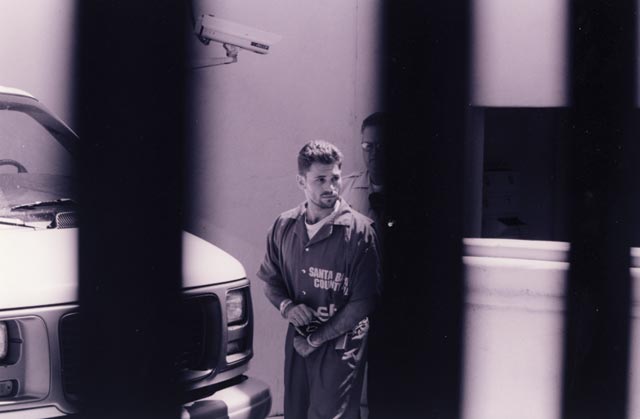 By Courtesy Photo