Somewhere on State Street between Bank of America and Chase, I realized that marching in a protest rally is a lot like walking. I've never demonstrated before, and I wasn't part of the weekly Occupy Santa Barbara rally to protest, but to report. So I pinballed back and forth between occupiers asking them what they're so pissed about. While all of the regular court jesters, conspiracy theorists, and semipro activists were on hand, most of the participants didn't resemble the tie-dyed, flower-power, Vietnam-era washouts and wannabes I associate with these events.
When the more vociferous marchers crowded the windows of bailout benefactors, I fell to the back, where Katie Snyder stood with her 5-month-old son strapped to her torso. She'd just been walking down State Street to get her baby to sleep when she joined the march and started chanting, hoping to set a good example for her son by speaking up against injustice. As we watched the protesters shake their poster board signs, Snyder told me, "I'm part of the 99 percent."
"We are the 99 percent" — which reminds that just one percent of Americans own nearly half of the country's wealth — has become the official slogan of the Occupy Wall Street protests, which began on September 17, when hundreds of people took over Zuccotti Park in New York City's financial district, built a tent city, and started inspiring similar protests around the country. The movement hit Santa Barbara in early October when crowds began occupying De la Guerra Plaza and sleeping in front of City Hall. That resulted in some arrests, but the city has tolerated the daytime occupation, as well as the Saturday protest marches through downtown, which on October 15 drew close to 500 people.
The one I followed along last Saturday was much smaller, but like Occupy Wall Street, the public support only seems to grow, at least on the Internet, as Occupy Santa Barbara's Facebook page has tallied more than 330,000 hits as of press deadline. Occupiers can discuss, debate, and plan through Facebook, Twitter, and other blogs — free and far-reaching online tools that are being used in the same fashion as they were during the Arab Spring — and the clearinghouse has become the OccupySB.org Web site, where users can post videos of the protests, as well as notes from the daily "General Assembly" meetings. Those experiments in democracy, which go down locally every night in De la Guerra Plaza, are also borrowed from Occupy Wall Street, which ripped them from protest movements in Cairo's Tahrir Square and Madrid's Puerto del Sol.
As I shivered through three descending dusks watching a clutch of wide-eyed youth and battle-scarred rabble-rousers stumble their way through General Assembly meetings, I questioned whether I was observing a phenomenon with enough direction to be called a movement. But maybe — like the critics who bash Occupy for lacking identifiable leaders and a list of demands — I was missing the point.
One of the brains behind Occupy Santa Barbara's technological machine is Alex Luhrman, who also does occasional computer work for this newspaper and has been intensely watching this year's protest movements both at home and abroad. When I ran the common critiques of Occupy by him, he was quick to argue that action and specific demands aren't necessarily important, at least not yet. "The state of the problem is so huge that it's not about coming up with a solution until the problem is discussed," said Luhrman, explaining that the movement is in the highly important networking stage, with protesters around the country gathering email addresses, creating social media sites, and connecting with each other. That means, said Luhrman, that whenever the time for action arises, people will mobilize immediately, and en masse.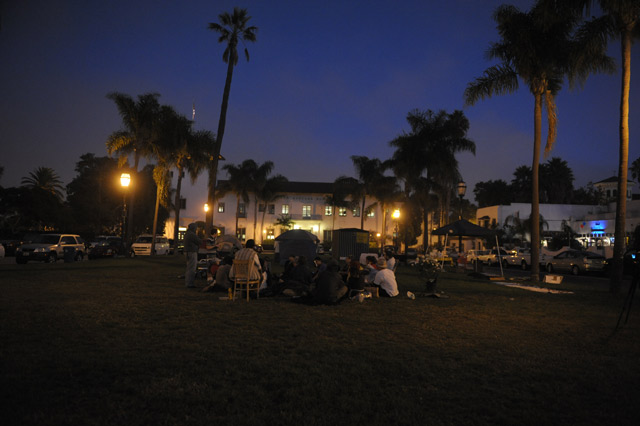 By Paul Wellman