UNPLUGGED: Long before Pepper and Rebelution, there were the RX Bandits. Formed in Seal Beach, California, in the mid '90s, the band made a name for itself with its hybridized mix of reggae, punk, ska, and progressive rock. Led by Matt Embree, one of the scene's more enigmatic and energetic frontmen, the band delivered famously propulsive live sets that kept them on the road for close to 15 years. (They called an indefinite touring hiatus in 2011.) But beyond their boundlessly bouncy stage presence, the Bandits were often applauded for their adventurous songwriting. Strange time signatures mashed up with 2 Tone–era bass lines, while Embree employed a lyrical style that was filled with vibrant imagery and thought-provoking messages about social activism — no choruses required.
Not surprisingly, in the time since the Bandits' break, Embree has been hard at work on new projects, including a solo venture he's dubbed Love You Moon. This Saturday, August 25, Embree hits Velvet Jones (423 State St.) for a solo set alongside opener Vinnie Caruana (I Am the Avalanche, The Movielife). Much like his work with the Bandits, Embree's new tunes are brimming with socially conscious, heart-on-sleeve wordplay. And stripped of horns, keyboards, and thumping bass parts, his voice has room to stretch and retreat, showcasing both his range and the power of his words. For Bandits fans, Saturday's show is sure to be one for the books. The all-ages concert starts at 8 p.m. Call 965-8676 or visit newnoisesb.org for tickets and info.
CITY OF ANGELS: For music fans and music makers in Los Angeles, Eleni Mandell is practically a household name. But to most, the Hotel Café staple, Jon Brion collaborator, and longtime X fanatic still exists just below the radar. This Friday, August 24, Mandell heads north to play Muddy Waters Café (508 E. Haley St.) with Minnesota music maker David Dondero. For the uninitiated, Mandell's songs are a mischievous mix of straightforward female-fronted pop and something slightly more sinister. In between solo sets, she shares a bill with The Bird and the Bee's Inara George and Lavender Diamond's Becky Stark as The Living Sisters. Fittingly, Mandell's music occupies the middle ground between Stark's eccentric stylings and George's pretty lilt, and sounds a lot like a lower-registered Jenny Lewis. Arrangement-wise, Mandell pulls a generous amount of inspiration from the past, employing things like orchestral string sections, antique organs, slide guitars, and brass flourishes to channel just a hint of 1940s nostalgia. She's currently touring in support of her eighth release — and first for Yep Roc Records — I Can See the Future. It's my guess that this will be your last chance to see her strut her stuff in such a small-scale venue. The all-ages show starts at 8 p.m. Call 966-9328 or visit clubmercy.com for tickets and info.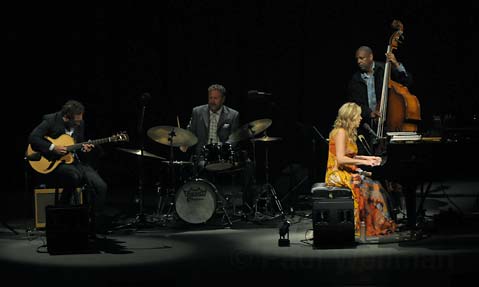 By Paul Wellman