When a local band makes it big here, it means they're not just creating hard-earned sonic candy ​— ​they're embodying an ethos that is uniquely Santa Barbaran. In some ways, Santa Barbara can be seen as a musical no-man's land. Its proximity to L.A. means touring bands tend to hopscotch over town and plot their next gig in San Francisco; its high cost of living ensures that S.B. musicians must punch the clock more often than their peers in other cities. More time on the clock means less time for the long hours songwriting, practicing, and touring necessitate; fewer bands passing through town can equal less chance for networking and inspiration.
In the last few years, no one has succeeded at overcoming these obstacles more than Gardens & Villa. Chris Lynch, Adam Rasmussen, Levi Hayden, Shane McKillop, and Dusty Ineman make up the synth-rock-flute extravaganza that, while channeling favorites like Talking Heads and Prince (and in the process tapping into the de rigueur cultural zeitgeist), has managed to create a sound that is fresh-sounding ​— ​something not to be taken lightly in this age of idea recycling.
G&V's sound is a distinctive mash-up of SoCal culture. Beach-party bonfire jams bump up against hippified flute solos and lyrics steeped in stoner mysticism; one minute you're crouched under the dark oaks in Mission Canyon, the next you're flirting with sunburn on Shoreline Beach. And for one reason or another, the dichotomy works: The band members are nature lovers who fill their songs with synthesized sounds.
Countless tours and festivals in the U.S. and abroad; a prime spot on the roster of Secretly Canadian, one of today's most respected indie labels; and an eponymous debut album that engendered accolades and dance parties alike have cemented Gardens & Villa's status as a national "it" band. This summer marks the first extended period of time the band has been able to hunker down in S.B. and work full-time on songwriting before hitting the road again this fall.
It also marks an important moment in the S.B. music scene. Gardens & Villa, in conjunction with S.B. music nonprofit New Noise, are fulfilling a longtime wish of curating MuddFest, an all-day music festival in celebration of Muddy Waters Café. The café, a tiny but potent all-ages venue, sits in a decidedly unfussy section of Haley Street, next to industrial businesses and what was, up until recently, a tire shop. It's a place people seek out rather than stumble upon. The interior boasts a similar anti-S.B.-establishment vibe ​— ​tables and a well-worn corner booth hug a heavily mosaicked counter, while bands set up in the front window, flanked by a six-foot wax-cast aluminum animal skeleton.
The band and the café have a long history ​— ​a little more than five years ago, Muddy Waters was solely a coffee shop, and Gardens & Villa were a noisy prog band named Ave Caesar who'd yet to book a show. Muddy's proprietor, Bill Lewis, had begun toying with the idea of having bands play, but he hadn't made any plans beyond that. "Adam [Rasmussen] came in, no tape, no CD to listen to, no MySpace site, just talking about [the band] Mogwai. When he left, we were like, 'Maybe we should just have his band play because he said Mogwai and he has a cool beard.' So we said okay and told the guys, 'If you want to play, play,'" he recalls.
From the get-go, shows at Muddy Waters were strictly DIY affairs. A proper sound system wasn't in the budget, so bands made do with what they had, or via the kindness of supporters like New Noise, Haley Ashbury, and countless area bands who loaned their equipment to make shows happen.
Over the years, due to its savvy (and at times reckless) booking and small size, Muddy Waters has also earned its place in the canon of venues that provide "I saw them when …" –type shows. Bands such as Bon Iver, Girls, and Beach House played intimate sets there before moving on to far bigger venues. "Beach House at Muddy's during their Devotion tour," recounts Rasmussen. "That was one of the more beautiful nights of my life."
But the venue represents even more than that. By ingenious band pairings and a vibe that's heavy on the hang-out factor, Muddy Waters has established S.B. as a spot on the West Coast superhighway for band interfacing. "I think a lot of bands would say that Muddy Waters is where they met all their music friends," Lynch says.
For Gardens & Villa, this is especially true ​— ​early on in their existence, they met Portland, Oregon, bands at Muddy gigs that provided friendship, plus a place to crash when they were touring the Northwest. This proved particularly useful when Gardens relocated to Oregon to work on music earlier this year. Having a basement full of friends to crash with and bounce music ideas off of came courtesy of having bonded much earlier at Muddy Waters. Lewis remembers, "Every time I've had them, I've paired them with an out-of-town band, and it winds up being this lovefest. The out-of-town guys are like, 'These guys are so great,' and vice versa."
"MuddFest is kind of a thank you in a lot of ways. We'd like to draw some more attention to the shop as a rad venue. Bill is kind of like a weird uncle to us. He supported us before anyone else did," Rasmussen says.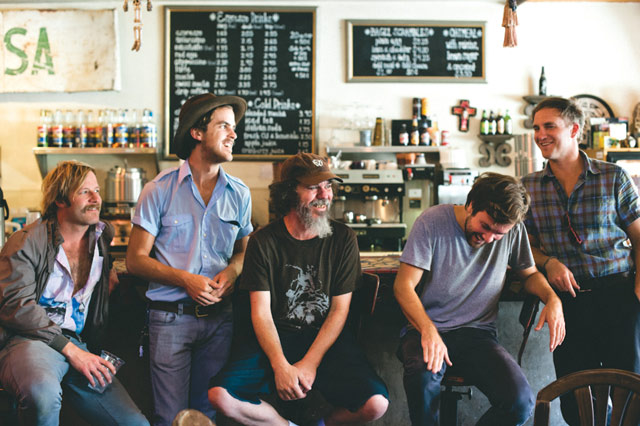 By Cara Robbins