On Wednesday, January 25th from 5:30 to 7 p.m., Hospice of Santa Barbara will host a wine and cheese open house reception for the new exhibit.
Robertson is a documentary photographer with a focus on the human condition. He has traveled the world with his camera in tow to document people's difficulties, their rituals, their work and their celebrations.
Robertson's exhibit at Hospice of Santa Barbara will feature black and white photographs of Bangladeshi laborers, Voodoo practitioners in Haiti, lumberjacks at work in Romania, child laborers in Egypt, rickshaw wallahs in India, and AIDS patients living in a hospice in Thailand. The exhibit will also feature color portraits of children from around the globe.
"These children represent the future, and by ameliorating suffering and improving the world, it is their future we are benefiting," Robertson said.
The experience of the AIDS patients in Thailand especially moved Robertson. While visiting a remote Buddhist temple in Thailand's Lopburi Province, Robertson visited a sparsely equipped hospice that was opened to care for the country's rising population of AIDS patients. The hospice is staffed by several monks and medical staff who allow the patients to die with dignity. Many AIDS patients in Thailand are dismissed by family and friends and left to fend for themselves. The monks at Lopburi take in these medical refugees and care for them in the last stages of the disease. They provide as much comfort, medication and spiritual guidance as they can for their patients.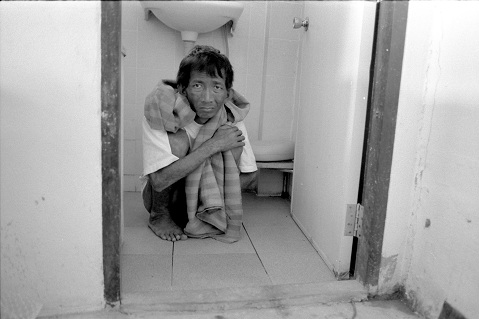 Michael Robertson