The Sound and Fury festivities started early this week when Trash Talk commandeered Velvet Jones on Wednesday night with the help of fellow hardcore outfit Nomads and two hip-hop acts, Alexander Spit and Spaceghostpurrp. The mixture of genres brought out a fiery but friendly crowd, and even when a feud broke out after Trash Talk's first song, vocalist Lee Spielman stopped everything with a resounding declaration: "This is a mixed show, and everyone here is with me." Miami rapper Spaceghostpurrp followed suit with a mosh-friendly hip-hop set that ably won over Trash Talk's fans, including some members of the hip-hop collective Odd Future, who were also in attendance.
Photo Gallery
Trash Talk at Velvet Jones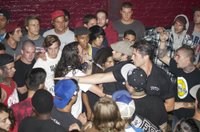 L.A. punk rockers played Santa Barbara on Wednesday, July 18.