This past weekend, you may have noticed more tattoos, body modifications, and black clothing around town than usual, due at least in part to the seventh annual Sound and Fury Festival, which brought bands and fans of hardcore music from all over the country to the Earl Warren Showgrounds. For three days, the festival showcased some of the most anticipated young bands emerging in the scene, like Basement and Single Mothers, as well as seasoned veterans like Bane and Comeback Kid.
Photo Gallery
Sound and Fury Festival 2012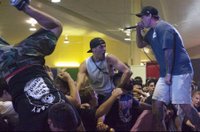 Hardcore, punk, and rock bands from across the country gathered for the 7th annual Sound and Fury Festival.
Though the focus of the weekend was predominantly hardcore, many bands were invited to represent adjacent genres like post-hardcore (Touché Amoré), punk (H2O), and alt-rock (Souvenirs). Undoubtedly though, the most interesting (and terrifying) moments of my weekend belonged to the heavier bands like Rotting Out, who hail from Los Angeles, and Santa Barbara's own Downpresser. While the Earl Warren proved to be an awkwardly cavernous room for some bands, these two seemed to make the best use of their space by filling it with as many flailing bodies as possible and turning their own stage into a huge melee, both musical and physical. Of course, such fun may cost the occasional broken mike stand, but miraculously, that seemed to be the worst casualty of the weekend.