Santa Barbarans in London
Perhaps hoping it will bring out the sun, organizers of the 2012 Summer Olympic Games have put a beach in the heart of London. The beach volleyball competition will take place on the grounds of the Horse Guards Parade, situated between the prime minister's residence and Buckingham Palace. The changing of the guard is something that Todd Rogers does not want to see. Rogers and his playing partner Phil Dalhausser will be defending the championship they won four years ago in Beijing.
Kami Craig hopes to take one step higher on the podium. She earned a silver medal in 2008 with the U.S. women's water polo team. They lost the championship match by one goal. Craig and most of her teammates have returned for a shot at the gold.
Rogers (San Marcos High) and Craig (Santa Barbara High) are continuing a tradition that began almost three decades ago with Karch Kiraly (SBHS) and Terry Schroeder (SMHS). In every Olympics since 1984, athletes from Santa Barbara have been impact players in volleyball or water polo, or both.
VOLLEYBALL: The rest of the world has been chipping away at the mystique of the Rogers-Dalhausser team. They have a way of coming back from serious deficits. Among the rivals that will try to drive a spike into their hearts are Brazil's Alison Cerutti and Emanuel Rego, and fellow Americans Jake Gibb and Sean Rosenthal.
"There's an edge in having been there, done that," Rogers said. The UCSB graduate, dubbed "The Professor," is regarded as the smartest player in the game. At the age of 38, and having undergone knee surgery last August, his focus has to be sharper than ever. Rogers's mental fortitude meshes with the imposing presence of the 6'9" Dalhausser, known as the "Thin Beast." The Florida native can turn matches around by going on a shot-blocking rampage.
Dalhausser refers to his partner as "Steady Eddie." He pointed to this year's first tournament, the Brasilia Open. "It was hot, high altitude, and every serve went to Todd," Dalhausser said. Opponents understandably thought they could wear Rogers out if he had to pass, jump, and swing on every defensive possession. How did that work out? Rogers and Dalhausser won the title.
Karch Kiraly is volleyball's most decorated Olympian, having won two gold medals with the U.S. indoor team (1984 and '88) and the first beach gold in 1996. He was an NBC commentator at Beijing, where American volleyballers had unprecedented success — three golds (men's indoor, men's and women's beach) and a silver (women's indoor).
Now, Kiraly is trying to help the U.S. women's team. He signed on as their assistant coach in 2009, joining Hugh McCutcheon, who had been coaching the men's team. "Our athletes have to compete with absolute ferocity," said Kiraly, who was known for doing just that. "People bring their best against the U.S.A."
The U.S. roster includes fiery setter Lindsey Berg, whose parents — Dennis, a former UCSB player, and Tina Berg — live in Santa Barbara, and Destinee Hooker, a talented Texan of whom Kiraly said, "She does things most people, men or women, are incapable of doing."
WATER POLO: Terry Schroeder made the transition from legendary player to national coach before the Beijing Olympics, where he led the U.S. men to their first medal finish in 20 years. Of course, it was silver — the same color that he won twice as the team's captain.
"Terry has been on a lifelong journey in a quest for a gold medal," observed Wolf Wigo, the UCSB coach who will be working for NBC in London.
International men's water polo is loaded with heavyweight teams. In group play, the Americans will face three top contenders — Montenegro, Serbia, and Hungary, the three-time defending champion. "They can't overlook Romania in their second game," Wigo said. "That's a dangerous one." Led by four-time Olympian Tony Azevedo, the U.S. team is very experienced, but for Schroeder's journey to reach fulfillment, Wigo said, "It will take luck and clutch play."
Wigo tagged the U.S. women as "the definite favorite" to win a gold medal after going silver-bronze-silver in the first three Olympics to feature women's water polo. It will be the fourth time around for two players, Brenda Villa and Heather Petri, and Craig figures to be a strong force in her second Olympics. "Kami's doing great," Wigo said of the 25-year-old, who joined the team a year out of high school. "She's at the peak of her athletic ability."
Craig said, "I was the youngest player on the team [in Beijing], and I was a little nervous, a little timid. Now I know when to be focused and when to enjoy the moments. We've done a good job being confident as well as respecting our opponents. Our attitude is that anyone can take you out. There will be a lot of one-goal and two-goal games."
The Americans qualified for London by winning the Pan-American title last year in a harrowing match against Canada. Craig scored a late goal to tie the score, 8-8, sending it into overtime. It went to a sudden-death penalty shootout, and both sides kept scoring until the U.S. finally prevailed by a score of 27-26. "I was having heart attacks with every shot," Craig said.
There will be a changing of the guard in women's water polo. The Netherlands, 9-8 winners over the U.S. in the 2008 gold-medal match, did not qualify for London. But past champions Australia (2000) and Italy (2004) will be there.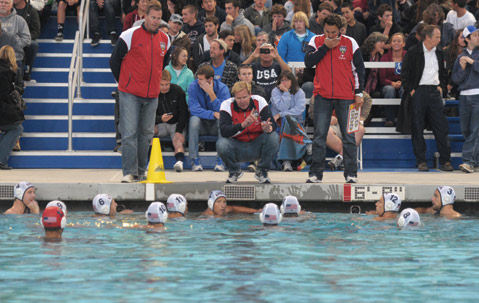 By Paul Wellman