If success were the only measure that mattered, Magda Arroyo would be sitting pretty. Since taking charge of the Westside Boys & Girls Club, which serves Santa Barbara's most densely populated, impoverished neighborhoods, nearly two years ago, Arroyo has worked miracles. She has transformed the club into a veritable popcorn popper of rambunctious youthful activity. The number of kids has increased five-fold, and the number of programs — such as Zumba, tae kwon do, basketball, after-school tutoring, and computer classes — has skyrocketed. And then there is the Note for Notes program, which has installed a professional recording studio in the club, equipped with drums, keyboards, and a quiver of electric guitars. Arroyo has worked actively with city police and with gang members themselves to assure parents that their kids will be safe, despite the club's proximity to Bohnett Park — often considered "ground zero" for Westside gang activity. Her efforts have apparently paid off. Gang activity at Bohnett Park is decidedly down — admittedly for a host of reasons — and parental participation at the club is decidedly up.
But success is not enough, and United Boys & Girls Clubs of Santa Barbara — the umbrella nonprofit agency through which Arroyo operates the Westside club — is on the ropes financially. As of February 19, its boardmembers were notified that United Santa Barbara — which runs the four clubs from Carpinteria to Lompoc (except the downtown facility across Canon Perdido Street from Santa Barbara High School) — cannot make its March payroll without an emergency infusion of $100,000. Since 2006, donations to the clubs have dropped off by $800,000. This reflects two new realities. First, philanthropic foundations took it in the shorts during the stock-market crash and have less money to give. What money they do have is being strategically concentrated on high-impact initiatives. In this new philanthropic world, ongoing programs — such as the Boys & Girls Clubs — are having a tough time competing.
Recently, rumors began to spread that the Westside club might have to turn off its lights completely by March 15. The good news, according to Arroyo and United's CEO Mike Rattray, is that won't happen; they simply won't let it. But the bad news is that the dimmer switch might have to be dramatically lowered. Each club, including Westside, could soon experience a 12-percent cut in program funding, coupled with a 10-percent reduction in employee pay, suggestions made last week at its board's finance committee. Of all the clubs, the Westside would be most devastated by such cuts. While its needs are the most pressing, its ability to generate revenue is the most limited. To put the Westside — and the other three Boys & Girls Clubs making up Santa Barbara United — on more stable financial footing, the board has embarked upon an aggressive fundraising campaign and will be asking the community for help. The goal is to generate $300,000 during the next 60 days. Of that, $75,000 is expected to come from the Westside club's community.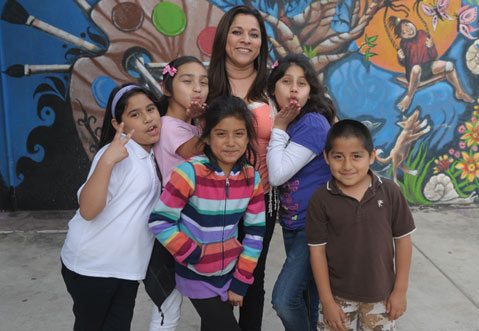 By Paul Wellman