As expected, the Land Trust for Santa Barbara County announced this week that it had closed the deal to buy the McCaslin family's extensive Hot Springs Canyon property, a publicly beloved 462-acre hunk of front-country foothills in Montecito. The long-stewing preservation play got done for $7.6 million — nearly $1 million less than the previously agreed upon purchase price — but what exactly comes next for the property and the various claims to the associated water rights remains very much up in air.
The Land Trust has always maintained that it does not intend to become the long-term owner of the land, and that was reiterated this week by its executive director, Michael Feeney. "Basically, the Land Trust decided to jump in the pool and buy the project, and, while our goal is still to convey all or most [of the land] to the Forest Service, there are still some very complex and tricky issues that we need to work out," said Feeney. "We are definitely taking a risk."
The issues that remain revolve around existing water rights on the Hot Springs property. As a matter of policy, the U.S. Forest Service does not like to take over properties that have preexisting ownership claims of any kind, preferring instead to own what they own outright. The Hot Springs problem is two-fold. First, there is a 16-year-old agreement between the Montecito Water District and the McCaslins that gives the district the groundwater rights for the property. The water, which is some 300 feet beneath the ground and best accessed by one district-built well on the lower portion of the property, has never actually been extracted by the district but is an insurance policy to protect against droughts.
The second issue involves the property's artesian spring water. Per an agreement that dates back to 1897, a little known entity called the Montecito Creek Water Company has exclusive access to the fabled spring water, which is captured and piped out as cheap irrigation water for 38 neighborhood homes. The old document says that 50 percent of the spring water should go to the company with the remaining half belonging to the property owner. But an informal agreement between the company and the McCaslins allowed the company to capture 100 percent of the spring water, which has rendered the canyon's namesake hot springs all but extinct; that agreement also allows the owners to reclaim their 50 percent when they please.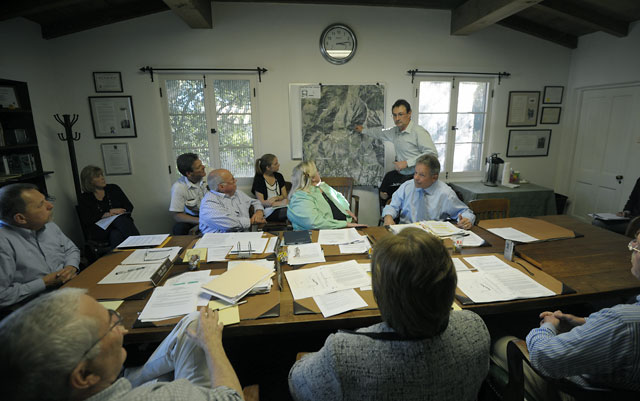 By Paul Wellman