Santa Barbara was a short-lived publication of the Chamber of Commerce of Santa Barbara County. The first issue appeared in January 1906, the last early in 1907. There is no relation to our current Santa Barbara Magazine, which began publication in 1975. The earlier magazine offers a fascinating insight into the Santa Barbara of more than 100 years ago.
The origins of the Chamber of Commerce may be traced back to the founding of a group to promote tourism and settlement in 1872. The chamber's birth went hand in hand with the advent of civic boosterism, which promoted population growth, improvements in transportation, and increased commercial opportunity to foster a dynamic and growing local economy. In May 1899, the Santa Barbara County and City Chamber of Commerce officially incorporated.
Charles M. Gidney was the moving force behind the new magazine. In January 1906, he was secretary of the chamber and head of its Committee on Publication. He had arrived in Santa Barbara in 1886, and during his years here he operated insurance and real estate firms, managed a newspaper, served two terms as a city councilmember, and was acting mayor for eight months. In 1917 he co-authored the two-volume History of Santa Barbara, San Luis Obispo and Ventura Counties California.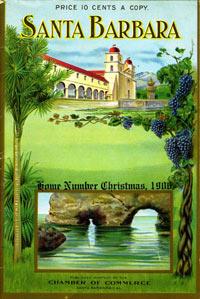 S.B. Historical Museum