In February 2011, I was ticketed to fly into Christchurch, New Zealand, to begin a hiking vacation. Three days before my flight, a 6.3 earthquake fragmented the South Island's largest city into an ugly landscape of dirt, rubble, and liquefaction. One hundred and eighty four people died. I decided to postpone my trip.
This past February I walked the South Island at last, immersed in landscapes that mirrored Alpine peaks, Alaskan fjords, rolling Big Sky ranges, tropical rainforests, and serene English countryside.
Then I came to Christchurch. From the air, the metropolis of 350,000 resembles a mini-L.A., low-slung and spread out from the Pacific Ocean across 550 square miles of estuarial plain. On the ground, the quake's brutal damage spreads from the hard-hit central business district through the city's eastern sprawl into the port town of Lyttleton and the posh suburbs of the Port Hills.
Founded in the mid-19th century, Christchurch was a well-planned grid of neo-Gothic stone-and-brick architecture, including the famed Christ Church Cathedral, the City Council buildings, schools, churches, museums, and more. Now the great majority of these landmarks lie in ruin, condemned to demolition. The cliché of a double-deckered bus tour offered a close-up of what's been lost. Most of the major hotel and corporate office towers are down, or soon to be. The business district's cordoned-off "red zone" has shrunk to one-sixth of its original size in a year, but it's hard to see any sign of new growth. Everyone's still digging out.
Even to a stranger, the sight of so much damaged beauty is painful. Yet patches of colorful tradition remain. A very English horde of youths in blue-striped blazers erupts from Christ College, a neo-Gothic private boys' school located next to the city's enormous swath of green, Hagley Park. A wonderland of mature trees shading the meandering Avon where tourists and locals punt in style, Hagley Park also boasts the Botanical Gardens' display of roses, flowering shrubs, and trees imported from all over the world. Next to the Gardens, Canterbury Museum provides a fascinating exhibit detailing the quakes of the last 18 months and the almost 10,000 aftershocks that followed the gigantic tremors of February 2011. As part of the exhibit, the broken cathedral tower's silver tip lies on display — or rather, it seems to me, in state.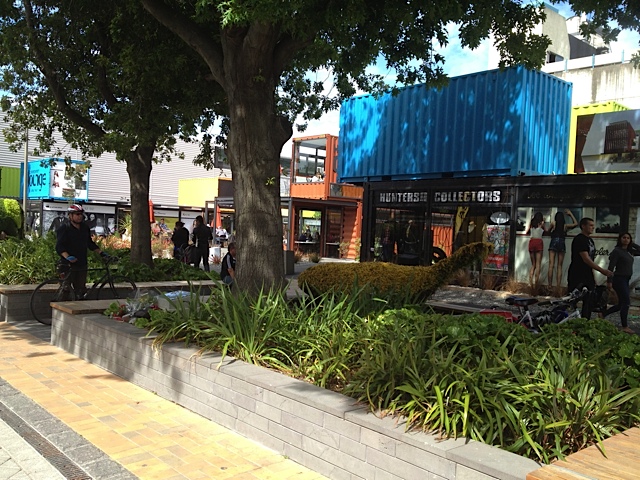 Roberta Grant