Governor Jerry Brown confronts a tangle of troubles rooted in the first two terms he held the office, half a lifetime ago. In putting Proposition 30 on the November ballot, the 74-year-old Brown not only has challenged Californians to make a high-risk policy decision that will shape our state for decades but has also set the stage for voters to pass judgment on the legacy of his epic political career.
One morning last spring, Jerry Brown addressed about a thousand businesspeople, burghers, lawmakers, and lobbyists at the 87th Sacramento Host Breakfast, an annual event that honors unity in a state bitterly divided by politics and taxes.
"For you students of classic drama ​— ​and I know there's a few left ​— ​you read Aristotle's Poetics," said Brown, surely the only governor in America who, in a routine speech, would reference an ancient Greek treatise on the theory of tragedy.
"He talks about … three acts ​— ​there's a beginning, there's a middle, and the end," Brown said. "We're just beginning Act 2. The second is when … the protagonist is under pressure. Can he get out of the box he's in? That's always in Act 2.
"All right, you wait," he added. "We're going to get to Act 3 very soon."
The Aristotelian allusion was to Brown's own efforts to restore the fiscal integrity of state government. The key to his plan is a controversial November 6 ballot initiative to raise taxes for seven years, by about $8 billion a year, a measure that is anything but unifying.
As he bets his governorship on this high-risk, high-stakes showdown over taxes, Brown confronts the consequences of difficult decisions made when he first held the office half a lifetime ago ​— ​many in response to Proposition 13, the iconic 1978 measure that slashed property taxes in California, ignited a national taxpayer revolt, and ushered in an era of gridlock in Sacramento.
Brown was then 40 years old and had campaigned fiercely for Prop. 13's defeat. But once it passed, he quickly became Prop. 13's biggest advocate and moved swiftly to implement the legislation. Now 74, the governor grapples with a set of seemingly intractable dilemmas that trace back to that time.
California today is wracked by a feeble economy, widespread unemployment, substandard schools, a declining university system, and a business climate that CEOs have voted the nation's worst. The governor won his third term in 2010 on a promise to end government dysfunction and restore the state's fiscal health.
It is a historical irony that Brown, once a self-styled "born-again tax cutter," now argues that the future depends on voters raising their own taxes. If the people turn him down, the defeat of his initiative will trigger billions of dollars in automatic cuts for state services and programs in the just-passed budget, with more than $5 billion of the burden falling on public schools. The coming verdict about his tax increase will not only serve as a referendum on his actions but also send a clear signal about what kind of government the voters want and how much they're willing to pay for it.
"It's a do-over ​— ​there's a lot of unfinished business," Sacramento Bee columnist Dan Walters, who began covering Brown in the 1970s, said of the governor's third term. "His first governorship was a perpetual campaign. That's the biggest difference ​— ​now he wants to govern."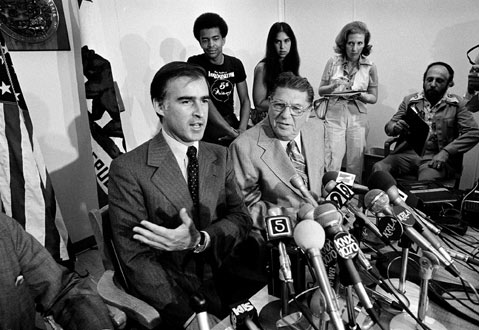 ap photo/robbin