Thanksgiving has come and passed, and The Santa Barbara Independent officially gives you permission to start playing Christmas music in your houses and businesses. While the chance of snow seems characteristically slim, The Indy has the low-down on making the best of Santa Barbara's sunny holiday season. Don't worry, traditionalists: S.B.'s community has everything that makes the season the most wonderful time of the year, from craft fairs, fresh-baked treats, and holiday shopping to spectacular parades, live music, and performances onstage — including enough productions of The Nutcracker to satisfy even the most voracious ballet buff. So break out the reindeer sweaters, mend the turkey-dinner-political-discussion family feuds, and get ready for a month of spirited celebration and holiday cheer.
Community Events
60th Annual Downtown Holiday Parade: A Diamond Holiday
Santa Barbara's biggest holiday tradition continues in 2012, marking the 60th year the parade has entertained thousands with its floats, balloons, flamboyant performers, and marching bands. Grand Marshal and Olympic gold medalist Kami Craig will lead the show. Fri., Nov. 30, 6:30pm. Parade travels down State St. from Sola (1300 block) to Cota (600 block) sts. Call 962-2098.
Brad Nack's 100% Reindeer Holiday Art Show
Eclectic portraits of reindeer will be on display and on sale for one night only. This year's exhibit includes 45 unique, framed oil paintings. Thu., Nov. 29, 6-9pm, Roy, 7 W. Carrillo St. All ages. Call 845-5389.
Candy Cane Train
The South Coast Railroad Museum's miniature train steams into its 20th year, alongside a Toy Trains and Teddy Bears exhibit. Riders must meet the 34-inch minimum-height requirement. Daily through Mon., Dec. 24 (except Dec. 3-4 and 10-11). Hours: 1-3:45pm weekends, 2-3:45pm weekdays. South Coast Railroad Museum, 300 N. Los Carneros Rd., Goleta. $4. Call 964-3540.
Carols and Blessings at the Old Mission
Sing Christmas carols and bless the animals of the Old Mission's traditional nativity scene with fellow worshipers. Sat., Dec. 22, 7pm. Old Mission Santa Barbara, 2201 Laguna St. Call 682-4151.
DeeTours Holiday Light Tour
See S.B.'s neighborhoods decked out in holiday lights from the comfort of a DeeTours Jeep Limo during a 90-minute tour of the town. One dollar from every ticket sold will be donated to DAWG (Dog Adoption and Welfare Group). Reservations are required. Dec. 10-23, 6:15-7:45pm. Dolphin Fountain, Cabrillo Blvd. and State St. $10-$25. All ages. Call 448-8425.
Goleta Valley Historical Society's Holiday at the Ranch
Weekend open house brings holiday cheer to attendees with live music, crafts, cookie baking, and festive tours. Sat.-Sun., Dec. 15-16, 11am-4pm. Stow House, 304 N. Los Carneros Rd., Goleta. $2-$5. Call 681-7216.
Holiday Nature Craft Family Workshop
Come create festive art and crafts at the Santa Barbara Botanic Garden, as staff leads participants in tutorials of how to make wreaths, ornaments, wrapping paper, and more from natural materials. Traditional hot cider and cookies keep guests warm and happy throughout the afternoon. Sat., Dec. 15, 10am-noon. S.B. Botanic Garden, 1212 Mission Canyon Rd. $5-$40. Call 682-4726 x132.
Los Alamos Holiday Stroll
Enjoy the holidays in Los Alamos with tree-lightings, caroling, live cello music, art displays, treats, bonfires, and a visit with a big man in a red suit. The town's merchants will be out in style with different gatherings and themes at their storefronts, as well. Sat., Dec. 8, 5-8pm. Bell St., Los Alamos. Call 344-3807.
Snow Leopard Festival at the Santa Barbara Zoo
Get down to the zoo this winter for tons of man-made snow and arctic animals, plus a skating rink, sledding hill, and a chance to meet Santa Claus. The zoo's Snow Leopard Festival is a wintertime treat for the whole family, giving attendees the special opportunity to see rare animals in their element. Sun., Dec. 2, 10am-3pm. 500 Niños Dr. Cost varies with activity, plus admission (free-$14) and parking ($6). Call 962-5339.
Solvang Julefest Tree Lighting and Parade
Solvang will go all out once again, celebrating the season in traditional Danish fashion with the lighting of a giant Christmas tree, live entertainment, and performances, followed by the annual Julefest Parade of Danish dancers alongside classic cars, horse-drawn carriages, and more of the city's finest. Lighting Ceremony: Fri., Dec. 7, 5pm. Solvang Park, Mission Dr. and First St., Solvang. Parade: Sat., Dec. 8, 11am. From Old Mission Santa Inès (1760 Mission Dr.) to Alisal Rd. post office. Free. Call 688-6144.
Solvang Nativity Pageant
The story of Christmas will grace Solvang's outdoor Festival Theater, performed by a cast of actors, singers, and live animals. Sat., Dec. 15, 5 and 7pm. 420 Second St., Solvang. Free. Call 688-6144.
Solvang Third Wednesday Holiday Celebration
Holiday festivities continue in Solvang, bringing shopping and dining specials throughout the village's businesses, and live entertainment and carolers to its streets all day. Wed., Dec. 19. Downtown Solvang. Call 688-6144.
Winter FUNderland
Come celebrate the holidays with the Museum of Natural History, exploring special planetarium shows and an exclusive Zoo to You program with winter animals to a background of live music, and bustling nature and craft stations. Sat., Dec. 15, 10am-5pm. Admission free-$10, plus ticket costs for Zoo to You and planetarium shows. 2559 Puesta del Sol Rd. Call 682-4711.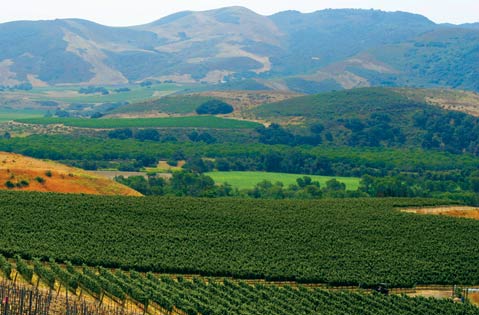 By Jen Villa