No matter your politics, the past four years have been nothing short of historic. Amid one of the worst economic disasters in American history, a black president was elected, the auto and financial industries were bailed out, the health-care system was reset with the passage of the Affordable Care Act (which has been upheld by the Supreme Court), and the military's longstanding "Don't Ask, Don't Tell" policy for gay soldiers was repealed.
And here we are again, with another Election Day around the corner, one that pundits are claiming to be the most important in our lifetime, as they tend to do every time the voting booths are rolled out for presidential elections. But for the first time in 10 years, thanks to California's once-a-decade redistricting policy, the state is a battleground for the U.S. House of Representatives. Starting in California, the Democrats are eyeing a long-shot chance of taking back the House, while the Republicans are fighting to maintain the majority they won in 2010.
That high-stakes hustle has zoomed in on our very own slice of the Central Coast, where the newly drawn 24th Congressional District extends from a sliver of Ventura County up to encompass all of Santa Barbara and San Luis Obispo counties. For only the second time since taking office 14 years ago ​— ​and certainly true of her past five reelection campaigns ​— ​Representative Lois Capps finds herself in a tough race. The 20-something-percent advantage of registered Democrats over Republicans that Capps enjoyed in her former district has been whittled down to just a 3-percent lead, with one-fifth of voters undeclared. That could cause anxiety against any opponent, but Capps is up against former lieutenant governor Abel Maldonado, a moderate Republican from Santa Maria who's got experience, youth, and popularity on his side.
As such, the GOP bigwigs see the Capps seat as a possible pickup, and they aren't hiding their efforts to snag it. So far, the National Republican Congressional Committee has thrown $400,473 at the race, Speaker John Boehner's unofficial Super PAC, the Congressional Leadership Fund, has pitched in $250,000, and the U.S. Chamber of Commerce added $120,000. To fight back, the Democratic National Campaign Committee and the House Majority PAC have begun to run ads in the district, and much more cash is expected to be raining on the coast by Election Day. And that's not even counting the more than $1 million in campaign monies that each candidate already has in their own war chests.
It will most likely be the priciest campaign ever waged by Capps, who has been a member of Congress since 1998, when she won a special election to replace her husband, Walter Capps, a former UCSB professor who died suddenly in office. She was reelected in 2000, back when the district looked a lot like it does today. But for most of her tenure, Capps represented the 23rd District, a gerrymandered strip of coastline from San Luis Obispo to Oxnard that's become known as the "Ribbon of Shame" and will cease to exist come 2013.
Though he hasn't been in political office since 2010, when he lost the statewide election to current Lieutenant Governor Gavin Newsom, Maldonado had his eyes on Capps's seat before the new lines were even drawn, opening up a campaign committee in 2011 because he realized the reformed district would be more favorable to challengers. Like Republicans across the country, Maldonado is calling attention to the still struggling economy and asking voters whether the country is better off now than it was four years ago or back in 1998, when Capps was elected. He says no, citing higher unemployment, deeper national debt, costlier college tuitions, and expensive gas at the pump.
But since Capps and Maldonado began their political careers at about the same time, many of the problems he pins on her could be turned around on him. While Maldonado was in state office, California's $4-billion budget surplus became a $25-billion deficit, California State University tuition more than doubled, and unemployment in the state also increased. Maldonado's defense is that he never served on the majority party in the State Legislature, and that's true, but Capps has only been in the majority party of the House for four of 14 years.
As vote-by-mail ballots begin to hit mailboxes this week, most political observers agree Maldonado is still fighting an uphill battle to unseat the entrenched Capps machine. But with less than a month to go until Election Day, they also admit that it is far from a done deal for Capps to claim her eighth reelection.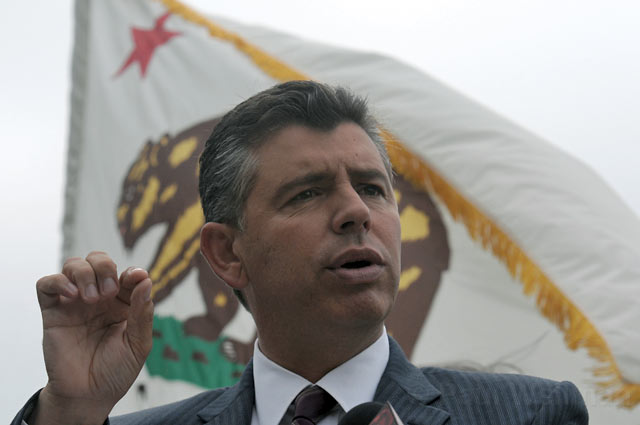 By Paul Wellman