Before Friday-night lights were needed, the 2012 high school football season kicked off under glowing summer skies. Because of an extended post-season playoff schedule, the opening games were pushed up to August 24.
It was a memorable night for Doug Caines of Santa Barbara High and Nate Mendoza of Dos Pueblos. They stood on the sidelines as head football coaches for the first time, and both their teams were victorious — Caines's Dons 25-22 over St. Joseph of Santa Maria, and Mendoza's Chargers 12-0 over Santa Ynez.
San Marcos also unveiled a new head coach, Anthony Linebaugh, who had two years' experience leading a varsity program in Northern California. His task is rebuilding the Royals, who lost their opener to Cabrillo, 27-14.
All three coaches are on their schools' teaching staffs — a welcome change at Santa Barbara and San Marcos, which had to resort to walk-on coaches in recent years. In separate interviews last week, they described their approaches to the sport that captivates America every autumn.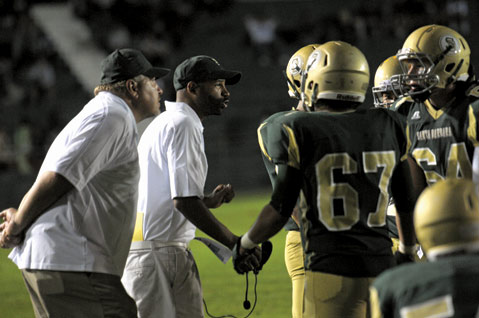 By Paul Wellman