If Governor Jerry Brown's tax proposal on November's ballot fails, it will take about eight weeks before the dust settles and the cuts come down from on high. But come down they will.
And like many cuts these days, they will hit in areas that hurt the most ​— ​like, in this case predominantly, education. If Proposition 30 is rejected by the voters, the state's main operating budget ​— ​which was approved in June ​— ​will have to be cut by an estimated $6 billion this year alone, with the majority of it hitting our schools.
The tax will only hit the state's wealthy while paying down California's debt, proponents say. Opponents of the proposition, which include the Howard Jarvis Taxpayers Association and the National Federation of Independent Business California, say the proposition is a small-business killer, a tax raise with no reform, and a tax raise that politicians can spend as they please.
Proposition 30 will increase the sales-tax rate by one-quarter of a cent from 2013 through 2016. Personal income tax on the wealthy, who currently pay 9.3 percent, would also be increased ​— ​an additional one-percent marginal tax rate on individuals who make between $500,000 and $600,000 a year, an additional 2 percent for those between $600,000 and $1 million, and an additional 3 percent on those whose income is in excess of $1 million. These increases would run from the 2012 tax year through the 2018 tax year.
The increases, according to the nonpartisan Legislative Analyst's Office, would impact about one percent of the state's income-tax filers, who currently contribute about 40 percent of state personal income taxes.
The Legislative Analyst's Office anticipates the measure bringing in $6.8 billion, while Brown has said it could bring in as much as $9 billion. "That's a big spread," said Meg Jetté, the finance guru for the Santa Barbara School District. "What if it's not $9 billion, it's $6.8 billion? It wouldn't cover everything."
To make matters more uncertain, there is a competing tax measure on the ballot that would raise personal income tax rates on most taxpayers in the state for 12 years. It would raise an estimated $10 billion next year and would be allocated for education and the state's bond debt. But the way the money can be used is much more limited, and the money is outside the state budget process. Proposition 38 is not polling as well as Brown's measure.
A poll conducted in early August by USC showed support for the governor's proposition at 55 percent. However, that same poll showed public concern over how government was spending and supervising the money it already receives from taxes. For example, here in Santa Barbara County, three public employees have been arrested for allegedly misappropriating public funds for personal use.
Brown has been working at the state level to cut costs and eliminate waste while, here in Santa Barbara, officials have spent the last several years slashing away at their budgets and are already operating at levels lower than have been seen in years. The county has instituted some pension reform measures, and there are fewer staff members and no raises.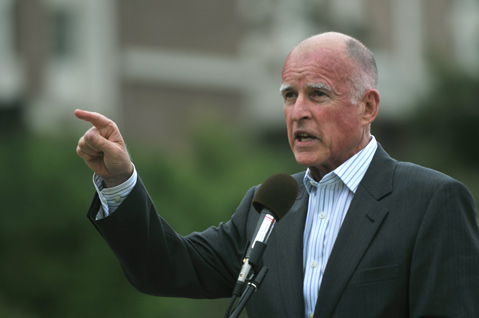 By Paul Wellman (file)