Bomber Drink: There I was, sitting in an Anchorage Airport bar a couple of weeks ago, when two very large guys sat down and ordered Irish car bombs.
This got my attention. Were they planning to board my plane? It turned out that it's a popular drink, not something that goes boom. The bartender poured Guinness stout into two pint glasses and filled two shot glasses with Baileys Irish Cream and Jameson Irish Whiskey. He dropped the shot glasses into the beers, and they hastily chugged the mixture.
(You apparently must gulp down this potent mixture, or the Baileys will curdle and the thing will taste horrible.)
"You guys aren't pilots on American Airlines Flight 278, are you?" I asked.
They laughed. It turned out they'd been working at the Prudhoe Bay Alaskan oil facility, on the far North Slope. "We haven't had a drink in three months," one told me.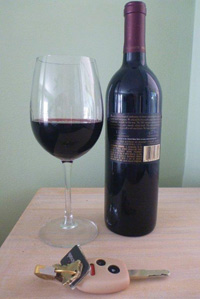 By Barney Brantingham