Island Brewing Company saw some major milestones in March 2013, the results of several years of strategic planning that will allow the craft brewery to both increase its capacity, efficiency, and beer style selection.
---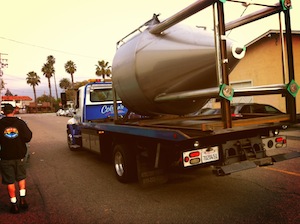 Island Brewing Company
"We've been interested in expanding capacity at the brewery for some time," said owner and brewer Paul Wright. "Demand is up for craft beer and we're pleased to have some major projects online in time for summer."
Replacing the brewery's original steam boiler with a new one will offer several benefits: faster brew times, a smaller carbon footprint, and increased efficiency. "Most people don't think about the boiler when it comes to the brewing process, but it's pretty simple: no hot water, no brewing,' says Wright. The brewery's new boiler features an increase in fuel-to-steam efficiency as well as lower electrical power consumption and a cleaner burner.
Island Brewing Company had also been interested in expanding its existing tank capacity to keep up with demand. The purchase of 3- 45 barrel tanks, two fermenters and one brite tank will allow the brewery to increase both the volume of its most popular beers and take some of the pressure off the existing tanks, freeing that tank capacity for a wider variety of seasonal offerings. "The investment represents a major increase in tank space for us. Stay tuned. We're going to have more beer around here and more selection than ever before," says Wright. "And those are all good things."