It's Fiesta, and heat vapors are rising off the confetti-blanketed asphalt as I charge down State Street pushing 
a granny cart erupting with flamenco paraphernalia. 
I'm quite the sight.
Hungry. Sweaty. Wilting rose in hair. My Fiestamobile is losing a wheel. And yet nothing can stop me. Not a wobbly cart. Not the horse-dung obstacle course left by the passing parade. Not the guy who just asked if I'm selling churros.
I'm a mobile VIP dressing room on wheels, and my flamenco-dancing daughter's next show is starting in five minutes, six crowded blocks away. I'm like a salmon swimming against the current. The parade may be going up State, but I'm goin' down, so move it, people. Move it.
During Fiesta, this is how I roll.
It's a week-long Fiestamama marathon, where dozens of other deranged mothers and I follow our dancing offspring around from one show to the next ​• ​hitting six, seven, even eight venues a day around town. When your kid has up to five different routines, that's 30-plus costume changes per day, making for one long, exhausting, wacky, nerve-rattling, castanets-busting, blister-inducing expedition.
These ladies and I, we are a bona fide Santa Barbara subculture, cast in a vital supporting role in the production that is Fiesta. We're the support cars that ride alongside elite cyclists in the Tour de France, the caddies who support the PGA tour. Take us out of the equation, and there is no "Viva" in la Fiesta.
As many of my fellow Fiestamamas know, you never leave anything to chance. This is game time. When I walk out that door in the morning, I'm not coming back for a good long while. I might not have time to pop into CVS for that random item. We're crossing the Rubicon here, and success depends on stamina, level of preparedness, and the ability to stay calm under pressure. I'm not joking.
For this reason, my Fiestamobile (as my hubby christened it years ago) is always loaded to the gills. At subsistence levels, it typically contains the following: folding chair; pop-up changing tent; blanket; cooler full of PB&J, bananas, waters, Diet Cokes; duffel bag, two accessory "fish tackle" boxes filled with earrings, flowers, combs, makeup, sunscreen, beauty products; first aid kit; change of clothes, flip-flops, hat box; boom box, parasol, shoe bags, and half a dozen fluffy, ruffly heavy flamenco dresses hanging from the handy, pop-up plywood closet rack my husband the carpenter mounted on the side of the granny cart. He painted it red to make it look festive.
Call me ambitious, an over-achiever, a closet Girl Scout, but I get a little rush when someone in our group shouts out in need and I'm able to accommodate their request.
Bee sting salve? Got it. Protein bar? Duh. Moleskin? But of course. Extra earring back? You jest. Copy of someone else's solo routine music? Just happen to have it. Baby powder? Which scent? Margarita mixings? Give me four minutes. Mad Libs? Si, señora. Extra footpads? Dang it. Just ran out.
Indeed, Fiestamamas will cover miles of territory on foot, load and unload our carts, and cars, and set up camp, many, many times per day. We'll encounter cranky, tired people (not just the dancers) and put our personal "spirit" of Fiesta to the ultimate contest. We will also wind up doing things that any other time of the year would be (1) odd, (2) inappropriate, (3) suspect.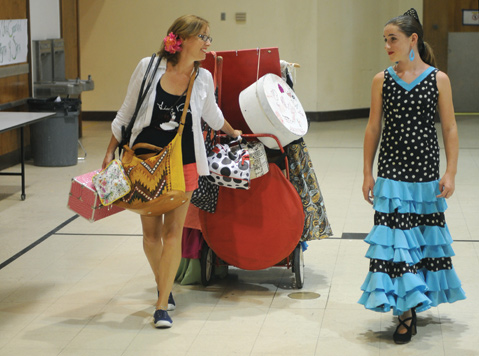 By Paul Wellman