Matatu (ma-tah-too) n. –
1) A heart attack on wheels, frequently seen swerving wildly on Kenyan highways and country roads.
2) A Euro-style minivan that comes in a variety of makes and models, designed to seat 12 very small-statured people comfortably.
Typically decorated with curious names like The Blues, Manchester, God Saves, High Life, and Playboy Sensation.
This is it. This is the day I am going to die. If my mother could see me now, she would have a coronary. Yep, we are swerving into oncoming traffic to pass a lorry. We are 25 people deep. Circumstantially, these are my closest Kenyan friends, including Michelle, crammed in a wobbly matatu. Owner holding onto the roof. Rickety sliding door open. We are careening riotously through a rural two-lane highway in Western Kenya.
What happened to the bucolic landscape of the fertile Rift Valley we luxuriated above all afternoon from our air-conditioned EasyCoach perch? Oh yeah, the bus attendant failed to announce that we were supposed to change buses 20 kilometers back.
A call from Benson. Slight alarm in his voice.
"Brent, your bus has arrived, and you are not on it. There was only an older mzungu woman on it. She looked nothing like you."
"Don't worry," I said, "the guy next to me said we are almost to Sirare, then we will be meeting up with you."
"Get off the bus now," said Benson. "You are on the wrong bus. You are almost to Tanzania."
Whoops. I could only laugh (and mildly panic) as I squeezed my ogre-sized body into a ma-tah-too. Six live chickens, bound by their claws, randomly flutter and squawk in the cramped space at my feet. The "boot" bursting with mzungu gear held closed by a single length of frayed twine.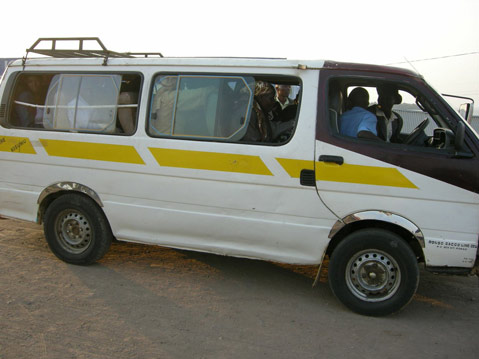 By Courtesy Photo