Bill Cosby recorded an album about sports in the late '60s. You could tell the time frame by the content. Sports were something that guys did — Cosby played football and basketball and ran track — and girls watched.
At one point, he gives a shout-out to cross-country. "It takes a lot of guts," the comedian says. "I mean, to run two-and-a-half miles to make yourself throw up. … Girls never watch cross-country runners. You know they're never at the finish line. They couldn't take it."
Addi Zerrenner was born long after that routine was relegated to antiquity. A sea change in the culture of sports has enabled her to fulfill the destiny suggested by her surname. Zerrenner, in German, means "the runner."
She grew up in an athletic family. Her older brother, Zack, played on three Pac-12 championship soccer teams at UCLA. "I played soccer my freshman year," the Dos Pueblos High senior said. "In the spring, I ran track to stay in shape. I loved it. It was my own thing. It got me out of the shadow of my brother."
It was the start of a sensational running career. Zerrenner holds the Santa Barbara County records for the 1,600- and 3,200-meter runs on the track. In the fall, she has thrived in cross-country, where the terrain and the elements are more challenging. "I like cross-country more because I like the longer distances and the scenery," Zerrenner said. She never lost a race on the three-mile Dos Pueblos course, and against the top runners in Southern California, she competed progressively better in the CIF Southern Section finals — fifth place in 2011, third in 2012, and second in 2013.
Zerrenner was the only runner who could stay within sight of four-time champion Sarah Baxter of Simi Valley. Baxter took the state championship on November 30 at Woodward Park in Fresno. Zerrenner was again runner-up. "Her only significant competitor was Sarah Baxter," said Dos Pueblos coach Micks Purnell. "Addi passed the last runner [other than Baxter] with a mile to go at the state meet."
Len Miller was the first coach to recognize Zerrenner's potential. He was coaching the DP boys team, which has produced such outstanding runners as Sergey Sushchikh (now competing at UCLA) and Bryan Fernandez (Oregon). "She has the heart of a Kentucky Derby thoroughbred," said Miller, who trained Zerrenner with the boys. Purnell took over from him this year and continues to coach Zerrenner, while Leslie Roth coaches the rest of the Chargers girls.
Zerrenner was invited to compete last Saturday in the Nike Cross Nationals against the country's top prep runners and teams in Portland, Oregon. "It was the best weekend of my life," she said. "It was awesome to be treated like a pro athlete. I got to meet Shalane Flanagan, Kara Goucher, Galen Rupp — my running heroes."
As for the race at the Portland Meadows, if it had a title, it would be "Frozen." The wind chill was 18 degrees, Zerrenner said — not very auspicious for a girl who was given the nickname "Shivers" in grade school. "Everybody knows I'm always freezing," she said. She wore her usual tank top and shorts at the starting line. "I went into cold shock," she said. "I really don't remember the race. I thought I was doing okay. Nobody was passing me. I was disoriented after finishing." She had symptoms of hypothermia and was rushed back to the athletes' hotel. "I took a warm shower and slept," she said.
She had finished 109th out of 198 runners. "It was disappointing to be back there," Zerrenner said. "Weather permitting, I believe I could have been in the top 10." Baxter, the two-time defending champion, finished third behind runners from Washington and Colorado — the only setback of the California star's career.
Zerrenner said she'll be better prepared for freezing weather in the future, especially if she goes to college in the north or east. One thing's for sure: Her sport does take a lot of guts, and she has them.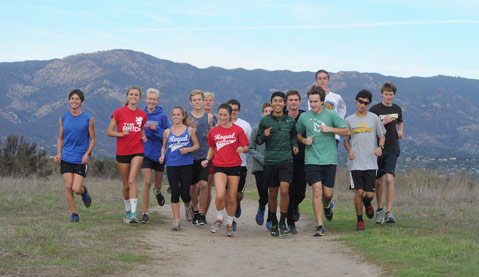 By Paul Wellman