It was hot, crowded, and noisy in the tin-roofed, open-walled gymnasium at the center of Javier, one of the larger towns in the Philippine province of Leyte. A limp banner in the corner of the stands advertised the "Mayor's Cup" basketball tournament, but on a Friday afternoon late in October, the newly painted concrete floor was home to several hundred mothers, fathers, and young children, spilling in and out of seats and aisles arranged across the court. As we walked in, flanked by the town police and mayor's personal escort to a cacophony of prompted applause, I muttered, "Whoa."
"It's always like this, especially if there's politicians involved ​— ​they really know how to bring out the people," Howard Schiffer replied, raising his voice slightly to be heard over the noise. "But this is how you get to 30 million."
Schiffer has been many things in his life: a commune member at the height of the flower-powered 1970s, a midwife, a natural-products entrepreneur, and, for the past 20 years, one of the most avid opponents of malnutrition on a global scale. His Santa Barbara–based nonprofit organization, Vitamin Angels (VA), has programs in 50 countries, including the United States, and has reached an estimated 30 million children in danger of or suffering from malnutrition and vitamin deficiencies.
During the past five years, they've gotten plenty of ink on these pages, including a cover story on their work in India in 2008 and a report from earlier this year on how they are helping expectant mothers in Kenya. But compared to programs like those, Vitamin Angels' work in the Philippines is in its fledgling stage, and yet it's growing fast, for Schiffer believes that vitamin programs are often impoverished communities' best bet for a noticeable rise in the quality of life. He explained, "No other technology can offer as big a change for the lowest cost in such short of a time."
The real potential for long-lasting change in VA's programs comes from their integration with in-country partners, especially those on a smaller, more regional scale. It's an approach that could be difficult to manage in a "brute force" relief organization the size of the Red Cross, but with VA's more nimble structure, Schiffer is able to arrange budget partnerships with both small government organizations like barangay health departments and independent organizations, such as Cebu City's Our Lady of Sacrament ministry, all of whom have a nuanced knowledge of the culture and population. VA delivers the supplies, explained Schiffer, and then the partners "tackle distribution on the ground and grow from there." That symbiotic relationship also allows these partners to grow in stature themselves, thanks to VA's influence.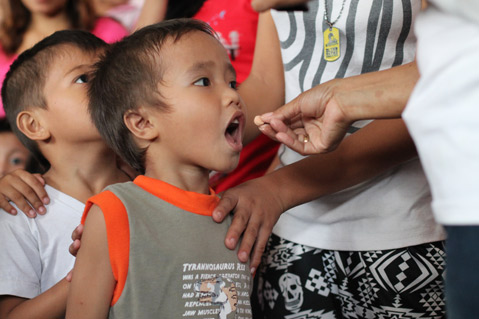 By Jack Crosbie