On a stormy Sunday night late last fall, I pulled into a darkened parking spot in the Funk Zone and scurried to an industrial building's unmarked door left slightly ajar. I closed my umbrella, followed the sounds of echoing music down a long, dimly lit hallway, and placed a small wad of cash into an envelope.
It was time for dinner.
Taking a seat at one end of a long table cut from a single slab of pine, I introduced myself to the woman on my right, who said, by way of greeting, "I haven't eaten all day!"
This was my first time to Spare Parts Bistro, a weekly supper-club-meets-pop-up restaurant, and somewhere between the polenta with black truffles and 63° egg and the crispy pork belly over clams and braising greens, I realized this was most certainly not hers — and that skipping the daylong fast in preparation for such a meal was rather a rookie move.
Around the country, rogue dining operations like Spare Parts have gained traction in recent years, thanks to a confluence of factors: the rise of foodie culture and the rockstar­ification of chefs; a down-in-the-dumps economy that's left the opening-my-own-restaurant pipe dream out of reach for many chefs and diners hungry for a more "authentic" experience; and DIY marketing made easy thanks to Facebook and Twitter. In 2009, when celebrated chef Ludo Lefebvre opened LudoBites — a bistro that would pop up in the off hours at L.A. restaurant/bakery Breadbar — to great fanfare, the trend was officially legitimized.
Of course, legitimacy can be the death knell for trends that exist on the fringes and for which the shroud of illegitimacy — or whiff of questionable legality — is part of the allure. But then, in Santa Barbara, trends take a while to trickle down. Spare Parts' Alvaro Rojas is the first to admit this. The longtime area restaurateur (Alcazar, Milk & Honey, and the weeks-old Bourbon Room) is the production half of the duo that makes up Spare Parts, and, though he's managed to find a solid niche in the Santa Barbara restaurant market — for which, he's quick to say, he's incredibly grateful — he's clear-eyed about the city's food scene. "There are some gems that are starting to reflect what's happening in the bigger cities," Rojas said, but "[Santa Barbara] is always about five years behind at least, really five to 10."
By that math, Spare Parts is right on time. The operation is a collaboration between Rojas and chef Weston Richards that began with a couple of low-profile test runs in October 2011, after a conversation about concept over beers. The two knew each other through a mutual friend; Rojas had long held the idea of a supper club in the back of his head, and, it turned out, Richards had, too. Richards's is a familiar face to Barbarinos who like to eat out, and not just because the bearded, redheaded chef is an unmistakable lumberjack of a guy; he's worked the kitchens of Sage & Onion, the Wine Cask, and Intermezzo, and helped open Julienne, where he stayed for four years and which he left to pursue Spare Parts.
For Richards and Rojas, the endeavor is about creating a holistic experience. Every aspect of an evening at Spare Parts has been considered, from the food on down to the table on which it's served. Truly: Rojas's friend, who worked at a lumberyard in San Luis Obispo, tipped him off to a couple slabs of wood that had been sitting around for years, which Rojas and Richards bought, sanded, and varnished themselves, and which they now use as the dinner and prep tables at every Spare Parts event. Rojas calls the tables the "anchor," and they are, in fact, so much a part of the Spare Parts signature that the guys will transport them to and from venues, despite the fact that the dinner table is nearly as big as a Volkswagen Beetle. In some ways, the tables crystallize the entire Spare Parts concept: Everything is handcrafted, sometimes painstakingly so — Richards even makes his own cheese and charcuterie — and made, to quote their tagline, "with love."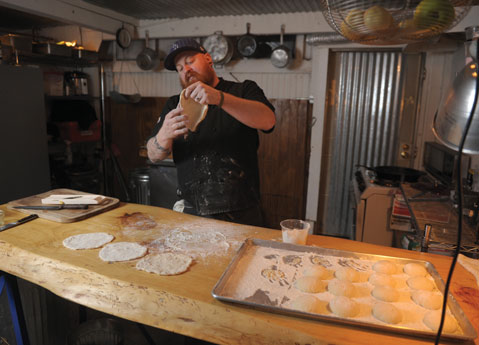 By Paul Wellman