If you don't build it, they will come. This paradox stands at the heart of the longstanding and worldwide love affair between visual artists and urban decay. Just as surfers seek waves and sailors seek wind, fine artists pursue otherwise abandoned spaces in which to do their collective thing — primarily paint, sculpt, and show their work, but also think, drink, talk, and make noise at all hours. From Williamsburg in Brooklyn to Echo Park and Downtown in Los Angeles, previously undervalued neighborhoods have become havens for artists; they can pop up anywhere that low rents and large spaces can still be had without sacrificing access to the city center. These same trendy neighborhoods often appeal to others, from the ultra-rich to the homeless, mostly for the same reason — underground arts districts don't make many rules. But, as we know, hipster havens also typically don't stay cheap for long. Once the galleries, restaurants, and shops hit stride, rents go up and artists move on.
In Santa Barbara, the Funk Zone is already the city's next big thing. In what was once the dilapidated refuge of a few dozen artists, craftspeople, surfboard shapers, and misfits, corporate real estate speculators are now buying up properties. Where bare-bones art studios were rented from month to month on handshake deals, developers are busy retooling warehouses and Quonset huts to handle the influx of sophisticated wine tourists — and bachelorette parties. The lot that housed the venerable Bay Café, for example, will debut soon under the management of Central Coast Real Estate as a remodeled complex including multiple wine-tasting rooms, a brewery, and a distillery.
This much is clear — lots more shiny, happy people are coming to the Funk Zone soon, and nothing's going to stop them. But despite concern that gentrification will drive studio artists out, the creative types haven't left the Funk Zone yet. In fact, collective expectations for a new art scene in the Funk Zone, although mixed with a healthy skepticism, are at an all-time high. Artists keep arriving to share in the excitement, and gallery options continue to expand alongside the wineries and surf shops. In this follow-up to The Santa Barbara Independent's October 2011 report on the recent evolution of the Funk Zone, we will look at some of what's happened in the Zone in this last year, and specifically at what art's got to do with it.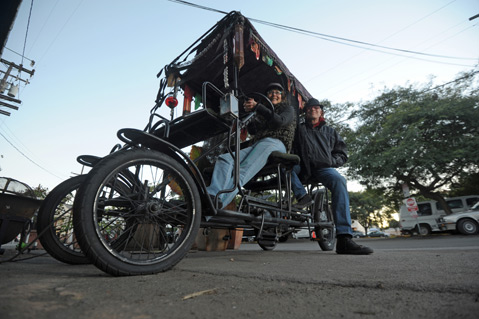 By Paul Wellman