Santa Barbara officials have arrested three more people in connection with the Cottage Grove Avenue gang stabbing on July 13 that left four people with moderate to serious injuries. Authorities have declined to release any additional information on the incident or say what sparked the large brawl, but sources told The Santa Barbara Independent that both the suspects and the victims are members of the Westside gang.
Photo Gallery
Cottage Grove Stabbing Suspects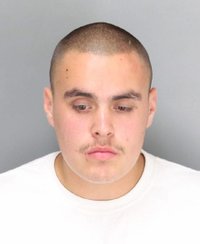 Eight individuals are now booked in Santa Barbara County Jail on charges of attempted murder and participation in a criminal street gang, according to police. Investigators with the Santa Barbara Police Department and County Sheriff's Office made the additional arrests after serving search warrants at seven different locations in Goleta and Santa Barbara.
The three newest suspects, who were arrested Wednesday, are:
– Adrianna Rosemary Marie Burkett, age 22, of Santa Barbara
– Nancy Moreno, age 22, of unincorporated Santa Barbara
– Iris Pineda, age 23, of Santa Barbara
The five remaining suspects are:
– Edgar Alberto Castellans Lopez, age 23, of Santa Barbara
– Abraham Vega, age 20, of Goleta
– Jose Rene Santa Cruz, age 20, of Santa Barbara
– Itzel Ramirez, age 20, of Santa Barbara
– Rita Maria Rodriguez-Mejia, age 23, of Santa Barbara