Stamatia Scarvelis has been playing piano for 12 years. "I've played Moonlight Sonata and all that stuff," said the Dos Pueblos High junior, but what really gets her going at the keyboard these days is "Explosions in the Sky," a rock song from a band of the same name.
An explosion in the sky is an apt description of the spectacle Scarvelis creates when she displays her athletic skills. She flings shiny objects high and far as a practitioner of the shot put and discus throw. The power-packed Charger won her second consecutive gold medal in the shot put at the CIF State Track and Field Championships last Saturday night. Her winning mark (50′7¾″) was three feet farther than she threw as a sophomore last year. In the preliminaries Friday night, Scarvelis unleashed a new personal best of 51′11″, the leading mark in the nation.
"It was a really easy throw," said Scarvelis, describing that magic moment when the athlete's mind and muscle are in perfect harmony. "On Saturday, I was tired because we went straight from the discus to the shot put," she said. She was not happy with her third-place showing in the discus (149′6″), but she competed like a champion in the shot. Tanya Sapa, a senior at La Sierra High, hit 50 feet for the first time, but Scarvelis put two throws beyond her rival's.
The Scarvelis family — parents George and Alexandra, and older brothers Steven and Nicholas — led the applause for Stamatia's efforts at the Buchanan High stadium in Clovis. "There were a lot of people watching," she said. "It was fun."
She followed her brothers into track and field. She started out as a sprinter like Steven. He holds the DP school record in the 300-meter hurdles and is a decathlete at Arizona. Nicholas inspired her to try the throws. He won the 2011 state boys shot put championship and is training at UCLA.
Stamatia's piano playing also is a family thing. "We've all had to play an instrument growing up until we're 18," she said. "Nicholas plays the trumpet, and Steve plays the guitar. All of this has shaped me to be more disciplined and responsible and all that stuff." She's an A student.
"I won't start thinking about college until I get through this season," Scarvelis said. She is going to compete in the Golden West Invitational at Berkeley this weekend. Then it's on to the Junior Nationals at Des Moines, Iowa, where she will be competing against first-year college athletes.
Scarvelis receives guidance from Kent Pagel, a former college coach who tutored his wife, Ramona Pagel, to become the American record holder in the women's shot (66'2 ½" in 1988). Ramona is a fitness instructor for the Navy at Point Mugu, and Kent works with the Navy Wounded Warrior Project. He saw Scarvelis compete in a meet in Ventura and offered his expertise.
"She has a lot of the classical traits for success," Pagel said of the two-time state champion. "She doesn't like to lose. She believes in hard work. And she has great support from her family."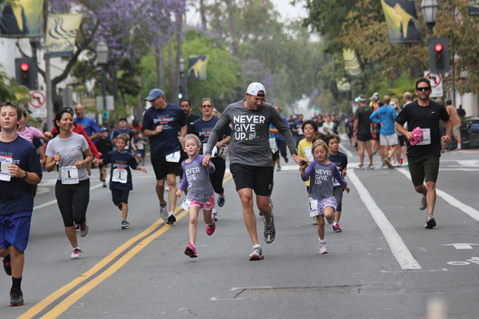 Magali Gauthier