Passing through the hustle and bustle of the Inland Empire, it's the sight of wind turbines and the towering Mount San Jacinto that welcomes me to the peaceful desert just ahead. This time, my destination is Indian Wells, one of the most affluent communities in the Coachella Valley. And it just so happens to also have one of its best resorts.
The Indian Wells Golf Resort
The desert is so spread out that you need to take a good look at where and what you will be doing before booking a room. Downtown Palm Springs is a half-hour drive from Indian Wells, and that's only if you know the short cuts. Most visitors these days find themselves playing golf, shopping, and eating in the area stretching from Palm Desert to La Quinta. The Indian Wells Golf Resort is right in the middle, allowing for easy access on your vacation.
This facility is owned by the City of Indian Wells, which pioneered an idea that has become very popular. They created a resort that continues to draw visitors to the area as well as providing all its residents with upscale golf, tennis, and dining. The end result is two championship golf courses and world-class tennis surrounded by two elegant hotels.
Golfers can choose between the Players and Celebrity 18-hole layouts. Both have been remodeled in recent years with multiple waterscapes added to enhance the look. On this visit, I played the Celebrity Course, designed by Clive Clark. The course has enough game for players of all skill level. Strategically placed bunkers will guard most doglegs challenging the long hitter to be also accurate.
After the round, there are several options for libations or food. The two-level clubhouse has a uniquely desert design and offers 360-degree views of the mountains and golf courses. The combination of this clubhouse and the golf gives one a private club feel. Indian Wells residents receive substantial discounts and are no doubt very happy with this use of city funds.
In case you are in need of a fitting, they have a Callaway Performance Center with state-of-the-art equipment to handle your golf club needs. An hour session with these experts will make sure you have the right specs from the flat stick all the way up to the driver.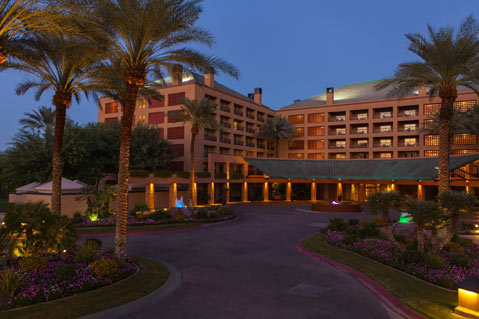 Ray Navis