Cecilia Amanya's home is a small hut made of earth in the tiny village of Nasewa, Kenya. It's dark and dank, with wasps' nests hanging from the grass ceiling and a chicken strutting across the dirt floor. Sitting inside, I listen as she says that, during her earlier pregnancies, she would eat chunks of soil from her bedroom walls.
And I was no longer surprised to hear it.
I was traveling with the Santa Barbara–based nonprofit Vitamin Angels to the remote villages of western Kenya, to meet the women who, like Amanya, were recipients of the prenatal vitamins the organization distributes. "I used to eat soil" was a refrain I heard over and over again when the women described what life was like before taking the vitamins.
It's an epidemic, in fact, among the pregnant women in this area and places like it ​— ​poor, remote, rural corners of the world. The burden pregnancy takes on a body that's already undernourished is simply too great. A growing fetus hungrily takes what it needs from the precious little that's available, and, in the case of these women, whose diets often consist of ugali (a staple here made of mashed, boiled corn and water) and little else, there's nothing to spare. Pregnancy pushes them over the edge, leaving them perilously malnourished ​— ​so much so that, in a particularly sinister side effect of starvation, they become sickened by food. Their bodies desperate for nutrients, they begin to crave ​— ​and eat ​— ​soil.
But it's a dangerous replacement. Parasites and bacteria can cause illness. Babies born of such conditions are often premature, underweight, and vulnerable to a number of birth defects; and a malnourished mother can't produce the milk a baby needs.
The (well, a) fix is simple: prenatal vitamins. But getting vitamins to these women is not easy. Basic infrastructure is all but nonexistent ​— ​the only roads are unpaved; electricity is sparse. In remote villages like Nasewa, women must walk miles just to collect water from a well. If they make it to a clinic to give birth at all, they either walk or are carted in a wheelbarrow.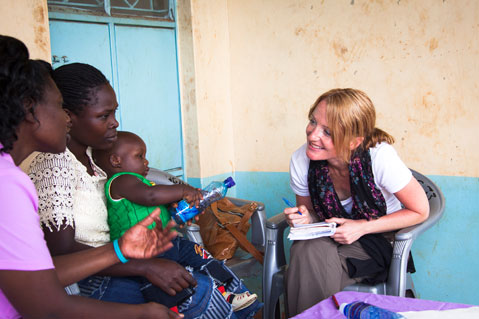 Matt Dayka